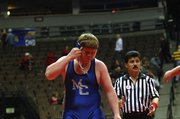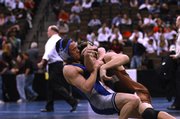 As the lone freshman in the 125-pound weight class at the 4A state wrestling championships in Denver, Charlie Griffiths' goal was simply to place in the top six at the event.
Cross it off the list, Charlie.
Griffiths lost his first match Friday, but regrouped to win his next three consecutive matches to place him in the consolation round semifinals.
There, he finished 0-2 to wind up in the sixth spot overall.
Sixth place is "not bad," Griffiths said. "I'm pleased with that spot. I'm glad I reached my goal."
Three MCHS wrestlers remained Saturday morning, the third and final day of competition.
Each was in the consolation bracket, meaning one loss and the season is finished, and the highest finish possible was third-place in the state.
Seniors Cory Vigil, Matt Kincheloe and the freshman remained.
Vigil wrestled Matt Francis of Thomas Jefferson High School at 119-pounds, to lead the Bulldogs on championship Saturday.
In a tightly contested match, Vigil and Francis were locked at 0-0 nearing the end of the third period.
Francis pulled a nifty escape move to score a point, then quickly scored again with a two-point takedown, eventually holding on to win, 3-0, knocking Vigil from the tournament.
"Cory just never got into a rhythm," coach Roman Gutierrez said. "And if you can't get into a rhythm here, that's what happens."
Two Bulldogs were left.
Griffiths faced-off against Pueblo Centennial's Domingo Abraham, a senior.
The freshman prevailed, 8-3, turning a one-point lead into a five-point win to advance to the semifinal round in the consolation bracket.
He knocked his second senior out of the tournament.
He was assured of the sixth spot, meaning the freshman had placed.
"Charlie had a pretty good weekend," coach Roman Gutierrez said. "He made no mistakes and got himself in."
Kincheloe was next up for the Bulldogs against 140-pound Houston Mader, a foe and friend from Steamboat Springs.
After Thursday night's opening ceremonies, Kincheloe paid Mader a visit.
"We kidnapped Houston and Silly String-ed him," Kincheloe said. "He is a good friend of mine and he beat me 11-2 earlier in the year, so I was trying to get him back."
Mader again came out on top on the mat Saturday, avenging the Silly String incident, as well as knocking Kincheloe out of the tournament.
Leading 4-3 with less than 30 seconds left in the match, Kincheloe was trying to hold on for the win.
"I was trying to go for the stall, but I went for an opening that wasn't there," he said.
Mader escaped, flipped Kincheloe on his back and got the pin with 18 seconds remaining.
"I tried to shoot in, but one of my elbows was left open," Kincheloe said. "And he caught me. He's a good friend, and we will be joking about it later."
One Bulldog remained.
Griffiths goal of reaching the semis achieved, his next was clearly set.
"I'm trying to stay hyped up," he said. "I want third. I'm going to have to take it. They're not going to give it to me."
The freshman will have to wait until next year.
Griffiths fell, 11-0, to Blayne Walker from Fort Morgan, eliminating him from third-place contention.
The loss pitted Griffiths against Chad Pompa from Pueblo South in a battle for fifth place.
Pompa defeated Griffiths, 8-3, on Thursday, a defeat that placed Griffiths into the consolation bracket.
Griffiths was bested by Pompa again Saturday, losing 10-1, settling for sixth place.
"This year is going to help me a lot," Griffiths said. "It's cool that I went the farthest of all the (MCHS) wrestlers. It doesn't matter if people remember my name next year, as long as I'm wrestling."
Assistant coach Ron Linsacum said Griffiths "has a lot of mileage on him for a freshman. He's going to be up there contending for a state title for us. There's a lot of fire in that kid."
For Kincheloe, it was his last time wrestling under the lights of the state championships at the high school level.
It's something he says he will sorely miss.
"I've had a lot of good times here," Kincheloe said. "Some of my best friends are here on the wrestling team."