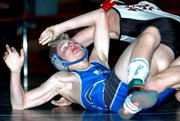 Round 3
103* Cody Nelson defeated Daymon Brock of Ralston Valley, 5-4; 112* A.C. Crofts lost to Golden's Logan Sauer, 12-5; 119 Cory Vigil defeated Montezuma Cortez's Jesse Blakely, 6-0; 125 Charlie Griffiths lost to Elizbeth's Gavin Garza, 10-4; 130* Scott Mann defeated Ralston Valley's Phillip Clain, 4-2; 135 Nathan Tomlin lost to Ralston Valley's Matt Hutton, 9-0; 140 Matt Kincheloe lost to Montezuma Cortez's Justin Samora, 19-3; 145 Troy Vernon lost 4-3 to Palisade's Kyle Davis; 152 Jesse Breslin lost to Montrose's Sam Snyder, 14-1; 160 Open; 171* Lyle Schaffner pinned Palisade's Clay Allen; 189 open; 215 Josh Satterwhite pinned by Palisade's Caleb Cisneros in the third period; HVY Dallas Daniels pinned Ralston Valley's Andy Cox with nine seconds remaining in the match.
Round 3 5-7 2 pins - 11 wrestlers remaining
*denotes consolation matches
Overall 5-8, 2 pins
Afternoon consolation rounds
First round
103 Nelson pinned by Casey Thorton of Palisade in first period; 130 Mann pinned by Joey Bajza of Eagle Valley in the third period; 171 Schaffner pinned Evergreen's Nick Keitlen in first period
Second round
125 Griffiths defeated Eagle Valley's Matt Kottenstette, 5-3; 135 Tomlin pinned by Palisade's Wesley Shingleton in the second period; 140 Kincheloe defeated Glenwood Spring's Matt Davis, 10-1; 145 Vernon defeated Dano Fugita, 3-0; 152 Breslin pinned Jefferson's Kendall Frame in the first period; 171 Schaffner pinned by Glenwood Spring's Tyler Rossow in the first period; Josh Satterwhite lost to Montrose's Chaz Staggs 3-1
Overall 5-5 2 pins
Medal rounds
119 Vigil lost 10-1 to Conifer's Travis Himmelman for second place; 125 Griffiths lost to Conifer's Nate Fisk 4-2 for fourth place; 135 Tomlin lost to Conifer's Travis Stickney 16-6 for sixth place; 140 Kincheloe pinned by Delta's Tyler Gieck with seven seconds remaining for fourth place;145 Vernon pinned in the third period by Montrose's Cade Garrison for fourth; 152 Breslin pinned in the third quarter by Conifer's Mike Vaggilus for fourth; 171 Schaffner pinned Rifle's Kieffer Deere in the first period; 215 Satterwhite lost with an injury forfeit; 285 Daniels pinned by Glenwood Springs' Greg Orosz in the second period.
Overall 1-8, 1 pin
Craig — Cory Vigil's face summed up his team's final round of the Class 4A Regional Wrestling Tournament on Saturday - bloody.
Vigil had seven blood stoppages during a 10-1 loss in the 119-pound championship to Conifer's Travis Himmelman.
"I'm used to the bleeding," he said. "It's something that almost always happens."
A young Moffat County wrestling team couldn't stop the bleeding after giving a collective strong effort through four rounds at the regional. In the medal round, the Bulldogs went 1-8, which included two losses to opponents they had previously defeated in the tournament.
"We lost focus toward the end of the day," Vigil said. "The coaches reserved the wrestling room upstairs for us to go up and focus but instead there was too much goofing around and there were too many people who weren't with the team up there."
Despite the poor showing in the final round, the Bulldogs put in some hard work to get there. Moffat County had nine wrestlers, one win from a trip to state. That's not a number coach Roman Gutierrez expected.
"We had a real rough season going into this tournament, but I thought this weekend was our best tournament," he said. "There were a couple of kids I thought had a chance to make it who didn't, but our good day Friday put us in position to do well."
One of the bigger wins of Saturday was Vigil's 6-0 semifinal win against the state's No. 1-ranked wrestler, Jesse Blakely of Montezuma-Cortez.
"I was confident on my feet against Blakely," he said. "I didn't know much about him so I just went in and wrestled my style."
The pleasant surprise of the tournament for the regional hosts was freshman Dallas Daniels. The heavyweight was inconsistent throughout the season and didn't make many tournaments. He only wrestled nine matches before the regional but pinned his way into the championship round. He ran into Glenwood's Greg Orosz and was pinned in the second period.
"I didn't want to be cocky, but I went in with the attitude that the guy I was shaking hands with had just beat me," Daniels said.
Gutierrez thought his heavyweight freshman would have a chance to do well.
"I thought he bracketed well and was positioned to go," he said. "He had a good effort."
Moving onto state for the Bulldogs are Vigil, Daniels, 125-pound freshman Charlie Griffiths (fourth), 140-pound senior Matt Kincheloe and 145-pound junior Troy Vernon.
Junior Jesse Breslin finished fourth but lost 5-3 in a wrestleback to Eagle Valley's Trent Book and lost his chance at state.
Kincheloe and Breslin lost to wrestlers they previously defeated in the tournament in the third- and fourth-place match.
"I really don't know what to say about my third-place match," said Kincheloe, who was a third-place regional finisher last year and a state placer as well. "I lost my mental edge a bit."
Griffiths, Daniels and Vernon are state tournament rookies. The two seniors have been before.
Just missing a trip to the Big Show in Denver were 171-pound junior Lyle Schaffner, fifth, 135-pound sophomore Nathan Tomlin, sixth, and 215-pound senior Josh Satterwhite.
"I wish we could have taken all three seniors, but Satterwhite's injury (in his match to get into third and fourth place) made that impossible," Gutierrez said.
Palisade won the tournament with 203 points. It was only the second time in nine years Moffat County didn't capture the regional title. The other top team scores were Montrose, 182.5; Rifle, 169; Montezuma Cortez, 157.5 and Moffat County was fifth with 140.5.
The state tournament begins Thursday at the Pepsi Center in Denver.