MCHS results
Round 1
Moffat County results -103 pounds, Cody Nelson, lost to Eagle Valley's Colt Ewing, 16-1; 112 A.C. Crofts pinned by Delta's Aaron Lujan at 3 minutes, 20 seconds; 119 Cory Vigil pinned Delta's Rudy Fantin at 16 seconds; 125 Charlie Griffiths pinned Summit's Henley Hijang in 26 seconds;130 Scott Mann lost, 1-14, to Montrose's; 135 Nathan Tomlin defeated Delta's Chris Sanchez 9-3; 140 Matt Kincheloe advanced with a bye; 145 Troy Vernon pinned Glenwood Springs' Hunter McCallum in 49 seconds; 152 Jesse Breslin advanced with bye; 160 Open; 171 Lyle Schaffner pinned Rifle's Kiefer Deere in 1:55; 189 open; 215 Josh Satterwhite pinned Glenwood's Shea Nickel in 1:01; 285 Dallas Daniels advanced with a bye.
Overall results: 9-3, 5 pins, three byes.
Round 2
103 Nelson defeated Will McDonald from Summit with a 15-0 technical fall; 112 Crofts defeated Connor O'Neal of Evergreen with a 17-0 technical fall; 119 Vigil defeated Elizabeth's Jacob Garza, 6-3; 125 Griffiths defeated Rifle's Marcus Arroyo, 9-6; 130 Mann advanced with a bye; 135 Tomin pinned Montrose's Erik Stucky at 2:47: 140 Kincheloe defeated Delta's Tyler Gieck, 9-3; 145 Vernon pinned Jefferson's Justin Espinoza at 2:47; 152 Breslin defeated Conifer's Mike Vaggilus, 13-9; 171 Schaffner was pinned by Delta's Ty Tatman in the second period; 215 Satterwhite defeated Montezuma-Cortez's Jacob Ayers, 6-2; Daniels pinned Rifle's Kyle Coombs in the second period.
Overall: 11-1, 3 pins, 2 technical falls, 1 bye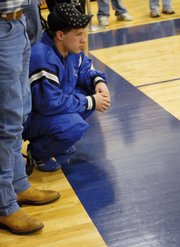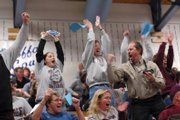 Craig — As a returning regional champion, Moffat County senior Cory Vigil knows what it takes to win at the big tournaments. But his struggles this year had to be in the back of his mind as he stepped to the mat for this year's Class 4A Regional Wrestling Tournament in Craig.
"I haven't been as aggressive," he said about his 27-12 senior campaign. "But going into this weekend, I realize that this is it, and I have to leave it all on the mat."
Vigil and his 11 teammates added some aggressiveness to their previous efforts in the first two rounds of the regional Friday. The team combined for a 19-4 record.
Vigil pinned his first opponent in 16 seconds. He then jumped out to a 5-0 first period lead against Elizabeth's Jacob Garza and held on to win, 6-3.
"After I put him on his back the first time, I could tell he was tentative," Vigil said. "It gave me some room for mistakes, which I made at the end, but I was happy with the way it finished."
Moffat County coach Roman Gutierrez was happy with the way his team finished Friday.
"We didn't make the mistakes that have cost us most of the year," he said. "With nine kids in the semis, I'm pretty happy."
Freshman Charlie Griffiths knew he had to be extra aggressive in his second-round, 130-pound match against fellow freshman and long-time wrestling acquaintance Rifle's Marcus Arroyo.
"He tends to be better than me on our feet, but I'm better on the mat," Griffiths said. "I knew I had to be aggressive on my feet."
Into the third period Arroyo had scored three takedowns but Griffiths had countered with three reversals and an escape for the lead. Griffiths found one of Arroyo's legs in the third period and converted it into his first takedown. The Bulldog held on for a 9-6 win and a trip into today's semifinal round.
Sophomore 135-pounder Nathan Tomlin continued the team's momentum when he threw Montrose's Erik Stucky to his back in the second period for a pin. At that point, the match was tied, 3-3. Stucky was the higher-ranked wrestler going into the match.
"Those are the kind of wins we've expected in the past," Gutierrez said.
Senior Matt Kincheloe was the aggressor on his feet in his 140-pound match against Delta's Tyler Gieck. He only allowed Gieck escape points in a 9-3 win.
The home-mat advantage continued for junior Troy Vernon. He flipped Jefferson's Justin Espinoza to his back in the second period of a 3-2 match for a pin.
Junior Jesse Breslin continued the unbeaten streak for his team in the second round with one of the night's more exciting matches. Breslin broke open a 6-6 tie in the second period with a five-point move, throwing Conifer's Mike Vaggilus into a "Sanders." One of Moffat County's signature moves, the Sanders gave Breslin enough distance for a 13-9 victory.
"I'm proud of how Jesse is learning to wrestle to his strengths," Gutierrez said. "He's probably never going to be the stronger guy out there, and he has to use his leverage. He did that in tonight's match."
Junior Lyle Schaffner couldn't keep up with Delta's Ty Tatman, and the Bulldogs' win streak ended at nine when their 171-pounder was pinned in the second period.
Senior Josh Satterwhite survived a 6-2 challenge against Montezuma-Cortez's Jacob Ayers.
Finishing the night in style, freshman Dallas Daniels rolled fellow heavyweight Kyle Coombs to his back for a pin in the second period. Daniels, who was limited to 11 matches during the season, pulled off the upset to end the night with an exclamation point for his team.
The 10-1 effort in the second round moved the Bulldogs into first place. Today's semifinal round, which starts at 9 a.m., will be the real test, according to Gutierrez.
"We run into some really tough kids right away tomorrow," he said. "It will be a challenge of our kids."
The top five team scores after the second round were Moffat County, 78.5, Palisade, 78, Montrose, 70.5, Rifle, 62, and Elizabeth, 60.5.