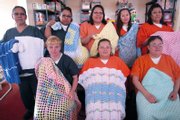 Craig — The story behind how Veranda Auld learned crocheting begins with yarn and hooks.
It ends with hope for a second chance.
Auld had never crocheted a stitch in her life, she said, until Peggy Bomba taught her how during once-a-week meetings.
Meetings that place behind the armored doors of Moffat County Jail, where Auld is incarcerated.
Auld is one of about 10 female inmates at the jail who ply their needles for the sake of the community outside their guarded walls.
Crocheting was difficult at first, Auld said.
But as the yarn passed through her hooks, the skill became easier. Auld recently finished her first shawl, under Bomba's teaching.
Her instructor said she hopes Auld and other female inmates encounter the same success in other aspects of their lives.
Bomba, who has been crocheting since childhood, began the program nearly two months ago. Serving on jury duty recently gave her the idea to take her hobby into the jail.
The crocheting program operates under Celebrate Recovery, another outreach organization that hosts programs in the jail, said Ivan Wooden, Celebrate Recovery ministry leader.
Crocheting can give the inmates a purposeful task and a chance to make a change, she said.
"I hope it gives them the idea that they can have a different life" after prison, she said.
It could also help them give back to others in need - specifically, women who use services provided by Yampa Valley Pregnancy Center.
The blankets, booties and hats the women create go to the nonprofit organization, which supports women facing unexpected pregnancies, said Debbie Rudd, Pregnancy Center director.
"We always have a need for blankets," she said, adding the Pregnancy Center also offers baby food, toys and parenting classes to mothers in need.
The crocheting program at the jail has helped Rudd meet the first of those needs.
But, the program doesn't solely benefit pregnant women at a crossroads. The women who earn the right to participate in it find rewards in their work, jail administrators said.
First, the blankets.
"It makes them feel good to see the finished project," Sgt. Delores Crow said. "They're all really proud of their work. We're proud of them."
Second are the improved relationships among the inmates.
"They love it," Crow said. "They help each other. If one gets in a bind (while crocheting), the others are there to help them out."
Weekly crocheting sessions are part of a facility-wide behavior reward program at the jail, said Lt. Dean Herndon, jail administrator.
Inmates must abide by jail rules to participate.
At first, Herndon had doubts about handing crocheting hooks - albeit plastic, blunt-ended ones - to the inmates under his care, he said.
So, he set a rule: One missing hook and the program ended.
Since the program started nearly two months ago, the women have yet to lose a crocheting hook - or cause significant disturbances, Herndon said.
"If (it's possible) you can be happy in a jail, they are," Herndon said.
The crafter's last reward came Thursday when they hand-delivered their projects to Rudd at the Pregnancy Center's temporary office in an auxiliary building belonging to Faith Lutheran Church.
The Pregnancy Center took up residence at the building after last year's fire destroyed its offices in Country Mall.
For Auld, the last reward paid for learning a new skill.
"It gives me a good feeling to know where (the projects) go," she said.