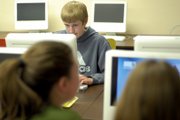 Craig — Greg Blackstun and Mike Zehner, Moffat County High School Speech and Debate team members, knew what they were facing when they debated in a district-wide speech competition last week.
Their opponents were "people from big schools who have a good command of the English language," Zehner said.
"We did the best we could," he added.
Their best was good enough - good enough to qualify Blackstun for the 2008 Desert Lights Nationals competition in Las Vegas and land Zehner the role as his top alternate.
Blackstun "has great charisma in the room," Zehner said.
And that's exactly what's required of their particular event, which replicates congressional debates.
"You have to make yourself stand above the rest," Zehner said.
About 90 students competed at the District Speech and Debate competition Feb. 8 and 9 in Louisville, Colo.
Four students from across the state - including Blackstun - were chosen to move beyond local speech meets and try their skills at an annual national competition in June.
Performances by Blackstun, Zehner and other top MCHS Speech and Debate team members mark the continuation of the group's resurgence, Hansen said.
The team sent two of its members to nationals last year.
It was the first time in years that any MCHS Speech and Debate member had made it that far, Hansen said.
Blackstun and Zehner were among 10 MCHS team members who qualified to participate at the district competition.
It was the highest number of students a school could send to competition, Hansen said.
The district competition was the first of three chances the students had to qualify for nationals, Hansen said.
Last week's competition was particularly difficult because schools were allowed to bring only their best speakers.
"The cream of the crop," Hansen said. "The best kids out of the best schools."
If Blackstun falls ill or qualifies in another event, Zehner will take his place at nationals.
In upcoming competitions, Zehner will have a chance to change his stand-by position into a guaranteed ticket to Las Vegas, like Blackstun's.
To qualify, Zehner will have to rank in the top five percent of Speech and Debate students from schools across the state.
Still, Hansen thinks that Zehner has a chance.
"Mike has a good shot of qualifying in his event," Hansen said. "I think Mike will probably qualify."