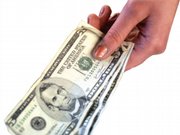 Feed the piggy bank
Regardless of spending habits, there are many ways to "Feed the Pig," according to the Web site, www.feedthepig.or...
Changing a single habit, or a few areas of your life, can amount to significant savings down the road.
Below are some recommended tips on how better to "Feed the Pig":
• Make a budget, and review it regularly. To develop your budget, keep all of your receipts for a month or two. That way, you can get a realistic sense of where you are in your current spending.
• Talk to your partner or close friends about your finances. Although it may seem taboo, no one wins when you're quiet about money.
• Always consider tomorrow.
The Web site also features tips on saving in more specific areas, such as dining out, ATM/credit card fees, home decorating, shopping and telephone and cable plans.
- Source: www.feedthepig.or...
Quitting smoking, losing weight, spending more time with family, these are all popular goals made by thousands across the country at the beginning of a new year.
Improving finances is perhaps one less trendy, albeit one just as important.
Dean Brosious, a financial and investment consultant for LPL Financial, 101 W. Victory Way, in Craig, said year after year he routinely has more consultations after the first of the year with people looking to "put their financial planning on the right track."
Brosious' advice to anyone of any age, income and financial situation is fundamental:
"More savings, less debt, more opportunities," the consultant with 33 years financial experience said. "Any age, that's fairly universal."
One of his primary pieces of advice is getting rid of credit cards, or at least reducing an individual's credit cards to just one, because of high interest rates.
"See if there is any wisdom in looking at alternatives," he said. "There is generally not a reason to have multiple credit cards."
He also recommends, as a general rule, taking proactive steps to lowering debt. This makes sense for anyone at any time, but is particularly wise today, given the instability of the national economy.
"With an uncertain economy, it just makes sense to lower your debt," he said.
Slow downs or lay-offs at work could make someone with significant debt particularly vulnerable, Brosious said.
"If you have a lot of debt," he said, "it can put you in jeopardy rather quickly."
And, with a savings nest egg and more prudent spending, potentially troubling times aren't as worrisome, Brosious said.
However, while a difficult economy can create problems, it's equally likely to present opportunities for those who can afford it.
"Now is a great time to invest," he said. "For the most part, you're buying things at a discount."
True to his basic advice, the sooner someone takes reasonable financial steps, "the more options they have" in the future, Brosious said.
Joshua Roberts can be reached at 875-1791, or jroberts@craigdailypress.com.