If you go
What: Faith Lutheran Church Christmas dinner
When: 1 p.m. today
Where: Faith Lutheran Church, 580 Green St.
The meal is open to the public. For more information, call 824-3043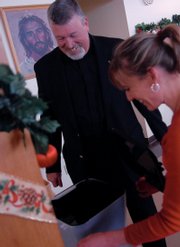 To John Turner, the decision was an easy one.
As pastor of Faith Lutheran Church, today - Christmas Day - offered a perfect opportunity to give back.
Turner and the members of Faith Lutheran are opening their doors to the less-than-fortunate residents of Craig for a warm holiday dinner.
"I heard about a lot of organizations in Denver that do things like this for the people who have no place to go on Christmas." Turner said. "Homeless, or whatever the reason, we have people here in Craig that meet that same criteria. So I thought, 'Let's do it here.'"
And they are.
Turner said anyone - homeless, broke or abused - is more than welcome to the ham, turkey, stuffing, mashed potatoes and several potluck items being offered up by the congregation.
There is no fee, no judgment will be laid down, and those who attend will feel no pressure to become part of the congregation.
It's just a good, old-fashioned Christmas dinner.
"We'll take in the stranded, the homeless and the less fortunate," Turner said.
"There is a long passage where Jesus speaks about taking in the hungry, the cold, the poor, and feeding them, clothing them and taking care of them.
"If you've done it to one of these, you've done it to me."
And that's what Turner and his congregation is all about:
Giving back to the Lord - whether it comes from a lifetime of service or a few hours of cooking.
"Christmas is a celebration of the greatest gift in the history of man," Turner said. "Jesus himself comes as our gift. We exchange gifts at Christmas because God gave us a great gift.
"So it's an opportunity for us to turn around and do for others as Christ has done for us."
Regardless of what his church does for others, Turner said it could never measure up to what Christ did.
"He comes and gives himself for our salvation," he said. "We can't ever top that. But what we can do is, in some way, turn around to others and do something for them."
In fact, Turner and his congregation are so eager to get the festivities under way they couldn't wait.
The Church hosted a 7 p.m. service Wednesday, with Craig's youth at the center of attention.
"We wanted to put the spotlight on the children in our town," Turner said. "They are playing a big part. We're singing Christmas carols, with the children taking care of the solos."
Today's festivities begin with a Christmas day service beginning at 10 a.m.
"We are going to celebrate Jesus' birthday, then have a feast." Turner said.
The Faith Lutheran congregation has enough food to feed 60 people - Turner said they don't know how many to expect - so he's ready.
"One is great, 50 is great," he said. "But I think we can handle 60."
Any more than that show up, he may need a little help from above.
"Jesus did some fine work with 5,000," Turner said. "He did it with two small fish and some barley loaves. I'm here to tell you, I'm not in that league - not by any stretch. And I'm not sure we have anybody present with us today, except Jesus himself who's always with us, that's going to pull it off.
"If it does happen, it'll be a surprise to all of us."
Turner is strong in his beliefs, his faith and his will to help others.
He's confident that the Lord is watching and giving his blessing.
But still, he is a bit nervous as his church embarks on its first Christmas day dinner.
"It's a real mixed bag," Turner said. "There's the excitement and a little bit of anxiety that comes with doing something new and not knowing what to expect.
"But with the excitement of the season and being able to do this, we figured 'Hey, maybe we'll be able to do something this Christmas that will be different than what they had before.'"
He said he wants people facing challenges to know "That they're not stranded, that they're not alone, that they have a place they can come and hang out with their brothers and sisters and Christ."