Elsie's poem
If I were Santa Claus
Do you know what I'd do?
I'd get a great big present sack
And fill it full for you.
I'd put in fun and laughter
Perhaps a tear or two
But with it all, there'd be good cheer
For the rest of time, for each of you.
For every kind and thoughtful deed
That you have shared with me
I'd give to you a twinkling star
For all the world to see.
And if your pretty Christmas tree
Should need an angel bright,
I'd add a figurine of you
To make a prettier sight.
A silken robe of sweet content,
As soft as wing of dove,
I'd make for you of mem'ries dear
Of those you truly love.
And for the long and lonely day
That to each is bound to come,
I'd give to you a real friend
For the warmth, as from the sun.
I'd give you flowers for your yard,
Enough to share with all.
And midst the music from the birds
There'd be a friendly neighbor's call.
If I've forgot a single thing
That you would truly need,
You'll find it in my Christmas wish,
If I were Santa, yes indeed!
- Elsie Wingo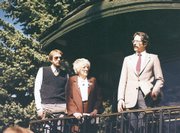 The current economic events are not the first to turn the United States into a financial tailspin. As we watch giant corporations turn to the government for help, it's helpful to remember that, in the Great Depression of the 1930s, people tended to help themselves doing whatever it took to survive.
Elsie Baier was born Dec. 16, 1902, to Frank and Marie Baier in Granite, Colo. The couple had come to the United States to avoid the political turmoil they saw building in Germany. Shortly after Elsie's birth, the family moved to Buena Vista, and settled down on a ranch.
Her parents knew the value of an education for their four children and encouraged Elsie to go to college. She often said later in life that when she was a young woman, there were only two careers that a woman could choose - teaching or secretarial.
She had shown a talent for teaching at an early age, so her path was set. She attended and graduated from Colorado College in Colorado Springs and then began what would be many decades at the head of a classroom.
She came to Moffat County two years after graduating and took a position at Craig High School. She had a full schedule teaching psychology, history, English and directing the chorus.
In her free time, she met Ralph Wingo, and the young couple was married March 15, 1929. They bought a ranch on the southern edge of Craig and began their lives together as the pillars of Wall Street began to crumble.
The Wingos knew that to survive, they had to diversify. In 1930, Ralph won a contract to carry mail from Craig to Meeker and was able to buy a truck that also served to haul coal from Axial Basin to customers in Craig. When the truck wasn't on the road, it was useful on the ranch.
In those days, the trip to Meeker took several hours in a motor vehicle, and during the winter, it took longer using teams of horses over the snow-packed route. The contract allowed: "During the season of the year when motor vehicles cannot be used the mail will leave Meeker and Craig simultaneously at 7 a.m. each morning except Sunday, each arriving at its destination by 7 p.m. Mr. Wingo's bid for this contract was $3,594.95." (Craig Empire Courier May 7, 1930)
They also raised chickens, selling eggs for a dime a dozen as well as dairy products.
Elsie was able to return to the classroom in 1942 when thoughts about married teachers changed. She focused on history and continued to inspire her students for two generations.
When she retired in spring 1968, she was honored for her dedication to her students and to her community.
She was an organizing member of the Craig Women's Club, enjoyed the Garden Club and in later years was a member of the Colorado Historical Society, the AARP and the hospital auxiliary. She also worked for the Chamber of Commerce, sharing her love of history with visitors as she guided tours of the Marcia Car. She also worked at the Museum of Northwest Colorado. While she was a volunteer at the Museum, she was often found away from her desk, sharing her life long love of learning with visitors, teaching them about the history of the area. She also enjoyed outings searching for interesting rocks and adding them to her collection.
Ralph died in 1975, but Elsie continued her involvement in the community. She wrote poetry and prose and was understandably proud of having some of her writing included in an anthology, Colorado Christmas illustrated by famed photographer John Fielder.
One year, she sent a poem she had written to her friends and co-workers. The piece reflected her positive attitude toward life (see sidebar).
Elsie was very punctual, dependable and dedicated to her work at the museum. When she didn't show up for work on her regularly scheduled day, the museum staff knew there was something wrong. The director went to her house to check on her and found that she had passed away. She died Nov. 17, 1996, at age 93. She left behind a son and daughter, six grandchildren and 10 great-grandchildren as well as many friends and former students who kept a small piece of her in their hearts.
Throughout her long life, she was fond of saying, "If you don't try, you can't win."
Elsie Wingo certainly won the hearts of her community.
Museum of Northwest Colorado may be reached at musnwco@moffatcounty.net
Shannan Koucherik may be reached at honeyrockdogs@msn.com.