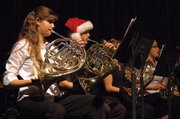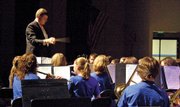 The weary smile on John Bolton's face Wednesday said it all.
Bolton, Moffat County High School and Craig Middle School band director, has been going nearly non-stop since school began in August. He's directed band performances for a high school musical, prepared students for multiple competitions and conducted about 155 students in four bands a concert Tuesday.
Still, those events combined couldn't erase his enthusiasm for what his performers are accomplishing.
"I'm happy for how these guys are playing," Bolton said. "They're enjoying it. I'm enjoying it with them."
He chalked up part of his good mood to Tuesday's concert, which featured middle and high school students. He estimated about 300 people turned out to see the performance, which is up slightly from the typical 280 attendance.
In what he called the busiest year in his nearly five-year career, Bolton has seen his students perform at levels that seemed unattainable when he first arrived.
Take the band's halftime performance at the homecoming football game, for example.
Students played "Let's Groove" and "After the Love has Gone" by the R&B group, Earth, Wind and Fire.
The pieces were a reminder of how far the high school music program had come since Bolton began teaching in Moffat County in 2004.
"Let's Groove" and "After the Love has Gone" were two of the pieces he handed out to his students his first semester teaching at MCHS.
"They were just terrified of this music," he said.
This year, however, was a different story. Students successfully tackled the difficult pieces.
He rattled off other milestones young performers have met this year.
A group of nine high school students traveled to District 8 Honor Band in Aspen last month, where half of them placed in the top section.
Another group of nine competed in Best of the West Select Band at Mesa State College in Grand Junction last week, where four students were selected to play in the top band.
Still, band students have a long road ahead of them until the end of the school year.
About 10 of Bolton's students will play with community members for a free, 7 p.m. performance of Handel's "Messiah" on Thursday at the Moffat County High School auditorium, 900 Finley Lane.
In March, he and high school band members will perform for the Colorado Bandmasters Association regional large group festival in Grand Junction.
Then, it's off to the University of Northern Colorado/Greeley Jazz Festival in late April.
In the meantime, Bolton is working to retain high-quality, motivated CMS musicians.
On average, about one-quarter to one-half of eighth-grade students decide to stay in band after their freshman year, he said.
Bolton has seen several middle school students this year who have shown both a skill and an interest in playing music.
The trick?
Getting them to stick with it.
"It's kind of a game from this point to the end of the year to turn their hearts into it," Bolton said.
Between nurturing young performers and preparing for performances, this year has proven to be a busy one for Bolton and his students. The spring semester doesn't show signs of being any less demanding.
Neither, however, had dampened his enthusiasm.
"What a fun job, though," he said.
Bridget Manley can be reached at 875-1795 or bmanley@craigdailypress.com