Players to watch
Colt Criswell (senior) - 19 goals, 10 assists as a junior. The speedy winger seems to frequently find the open space on the ice, and this season should be no different.
C.J. Walt (sophomore) - Carson said Walt is "smooth as peanut butter" and an "all-around threat" every time he touches the ice.
Cole Dubois (junior) - Labeled as one of the hardest workers on the team by Coach Gene Carson, Dubois is respected by the coaching staff and regarded as a "full-throttle" player.
Teams to watch
Grand Valley A - The Cattle Kings won just three Rocky Mountain Youth Hockey League games last season, but they return a much improved team this year.
Crested Butte - Defending RMYHL champions, the Wolfpack will skate with a target on their backs this year.
Durango - The Steamers went undefeated last season, until losing to Crested Butte in the RMYHL finals. Look for Durango - a traditionally tough team - to be at or near the top of the league standings when all is said and done.
Dates to circle
Dec. 12 and 13 - Durango visits Moffat County Ice Arena. Coach Walker Criswell feels Durango could be the toughest team in the league, and the Bulldogs will get a chance to see where they stand in this two-game series.
Jan. 3 - The Bulldogs visit Gunnison A in a road double header. The midway point of the season offers the first of four games against annual powerhouse Gunnison.
Jan. 24 and 25 - Crested Butte visits Craig. The Wolfpack knocked Moffat County from last year's postseason in the Frozen Four, and Carson said the team would like a little redemption. The final two home games of the regular season for the Bulldogs will give the team its opportunity.
Team Information
League: Rocky Mountain Youth Hockey League
Coach: Gene Carson
Assistants: Walker Criswell, Jerry Strahan
Carson with Bulldogs: First season
2007-08 season: 12-5-1 (RMYHL) 18-5-2 (overall)
Returnees: 12
Players lost: 6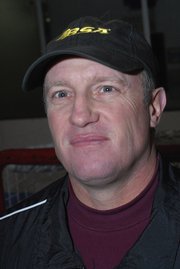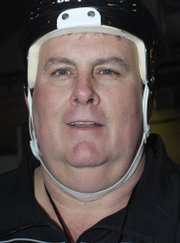 After what coach Gene Carson called a disappointing finish to end last season, the Moffat County Bulldog Hockey Club begins another push toward a Frozen Four berth Nov. 8.
The Colorado High School Athletic Association doesn't govern the Bulldogs, yet the roster is full of MCHS students.
Many of the players are returning starters from last year's playoff team that claimed 18 victories overall, 12 in league play.
"We have a good team coming back this year," Bulldogs coach Gene Carson said at a team practice last week. "You know, we lost a couple of guys, but we have a lot of talent and depth at just about every position."
The Bulldogs return speedy senior winger Colt Criswell, who tied for the team-lead with 29 points as a junior.
Criswell tallied 19 goals and 10 assists his junior season, finishing 11th in the league, matching the play of senior Scott Smith (29 points - 17 goals, 12 assists).
Smith is gone, but the tandem of returning starters Ty DeGuelle (nine goals, three assists), Cole Dubois (five goals, 11 assists) and Nathan Tomlin (seven goals, six assists) should fill the void left by the former team captain.
"We are going to miss Scott's play in front of the net, definitely," Carson said. "But, I think there are some guys that are going to be better than they were last year, that are going to get more ice time, and just might surprise a few people."
Starting the season in net for the Bulldogs is senior Spencer Wayman.
Wayman earned two shutouts as a junior, winning seven games - fourth best in the league.
Wayman recorded a stingy 1.55 goals against average and finished the year with a 0.941 save percentage, tops in the league.
Backing up the senior is sophomore Curtis Ellgen. Ellgen started just five nonleague games for the Bulldogs as a backup to Wayman and Bryce Ponikvar, but he made the most of his limited opportunities.
Ellgen won all five games, allowing just two goals, while picking up three shutouts.
"I think with how good Spence is, and how strong we know Curtis can be, goalie is probably one of our deepest positions," Carson said.
Carson will be easy to spot - he'll be the guy behind the bench in the suit - but, he didn't take over the head-coaching job to be in the spotlight.
Carson brings a trio of coaching experience to the ice with him in assistants Walker Criswell and Jerry Strahan.
"Walker's approach is hard-nosed, strict disciplinarian that expects a lot out of his players," Carson said. "Jerry, on the other hand, is a very methodical, well-thought-out, soft-spoken coach that can bark when he needs to."
John Vandelinder can be reached at 875-1793 or jvandelinder@craigdailypress.com