Photo Gallery
2008 Craig Parade of Lights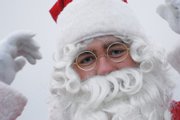 Call it official - the holiday season is here.
Bellies still full from Thanksgiving Day feasts and Thanksgiving leftovers, residents of Craig lined the city streets Saturday night to usher in the season's next big day.
The 2008 Craig annual Parade of Lights made its way through town Saturday with Christmas the overriding theme.
"This is a wonderful way to kick off the joyous occasion," Danny Griffith said. "It symbolizes the beginning of the holiday season."
Griffiths, owner of J.W. Snack's Gulf Coast Bar And BBQ and avid Parrot Head Club member, was part of the "100 years of paradise" float entered in this year's parade.
Each year, a traveling trophy - approximately 4 feet in height - is awarded to the float that uses the most lights, is the most original and follows the year's theme the closest.
Every year, Christmas is the theme, but this year, Craig's Centennial Celebration had to be involved, as well.
Griffith's float won first prize in this year's event; second was awarded to "Craignuts roasting over an open fire" by the Wyman Museum; and third was claimed by Tri-State Equipment's float, "John Deere Winter Wonderland."
More than a dozen floats were entered in this year's event, with endless hours of labor and dedication put in by many people.
"We are celebrating 100 happy years of Christmas, so that's what we named our float," Girl Scout leader Tanya Ferguson said. "The girls actually earn patches for getting involved in the parade. We've done this for four years now, and it's a great way to begin the holidays."
Nicky Boulger spent seven days, off-and-on, working on the Wyman Museum float.
"In our minds, the people of Craig support us all year around," Boulger said. "This is our way of giving back to the town."
The event is organized and run by members of Craig's Downtown Business Association, but the members of Craig Lions Club are the foot soldiers at the event each year.
"One time, in the '80s, we were out here, and it was 20 below," Lions Club member Al Shepherd said. "What was weird, though, was that despite how cold it was, it was probably the best one ever. People were everywhere, and we had some (U.S.) Marines marching in it that were, you know, big tough Marines. They didn't wear their topcoats, and I remember them all running for cover because of the cold. All of us residents were fine.
"They weren't as tough as the rest of us."
Saturday's temperatures didn't approach those from Shepherd's story, or even those of a year ago.
The event was moved earlier, allowing participants added daylight for last-minute preparations.
Joy Nylander was administering some last-minute mending to the float entered by Friendship United Methodist Church.
"Lordy," Nylander said when asked how long she'd been involved in the parade. "I've lost count."
As for the event kicking off the holiday season?
"All we do on Thanksgiving is talk about the float," Nylander said. "It means that Christmas is here."
John Vandelinder can be reached at 875-1793 or jvandelinder@craigdailypress.com