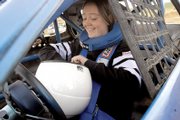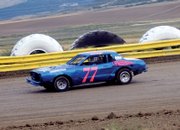 Isadora Hitz isn't your typical 14-year-old girl.
Sure, there are things about her that resemble girls her age.
She's a cheerleader. She fingers through teen magazines, gossips about boys at sleepovers with friends and watches MTV.
But, when the Saturday sun goes down, she undergoes a change.
"Izzy," as her friends call her, swaps her cheerleader garb for a suit of a different sort.
A black fire retardant one-piece racing suit, to be specific.
Izzy may be a cheerleader by day, but she's a racecar driver by night.
She straps herself into a light blue 1982 Ford Mustang - complete with pink numbers and decals on the side (she is a teenaged girl after all) - and slams the gas pedal to the floor.
Behind the wheel of her automobile, Izzy isn't a girl. She's a self-proclaimed "speed freak."
Around and around the dirt track at Hayden Speedway she zooms, chasing a dream.
"I've been wanting to do this since I was little," she says with a grin. "My dad has been racing since before I was born and I've always been around it."
Her father, Nate, took the year off from racing - something he's been a part of his whole life - so his "tomboy cheerleader" daughter could step into his shoes, and get a taste of life in the fast lane.
"She's been tagging around me, sticking her nose under the hood of a car since she could walk," Nate said chuckling. "I know it seems kind of weird, because she's not even old enough to drive on the street yet, but I know how much this means to her."
Hayden Speedway allows drivers 14 years old and older to participate with parental consent.
So, Nate poured more than $1,500 into the four-cylinder No. 77 that his daughter uses to race around Hayden's dirt track.
He doesn't worry about his own racing passion, the adrenaline he once felt and longs to feel again behind the wheel, or the glory associated with finishing a heat in the pole position.
Instead, he now stays hunched under the hood of Izzy's car, making sure everything runs correctly.
For her. Not for him.
"I'm trying to let her fulfill her dream," Nate said. "My job is to put her in a safe car - a car that can win. After that, the rest is up to her."
Two weeks before the first Speedway race June 7, Izzy ran into a problem. She was ready to go. Ready to become the next Danica Patrick - the first woman to win a race on the professional circuit - but she encountered a hitch.
Her car had a manual transmission, and she'd never driven a stick before.
How could she?
She's 14.
"It took me a while to be able to get out of first gear without stalling it," Izzy said, laughing while reflecting on those grueling first two weeks. "I'm getting better now. I only stall it every once and a while."
Hitz hasn't won a race this season, but she currently is sitting in second place in the Sport Stock rookie standings.
"I didn't expect much from her in her first season," Nate said. "I'm just proud of her for sticking it out and wanting to keep driving."
Nate had reason to be skeptical at first.
His wife tried the sport last year.
Once.
"My wife didn't like it at all," Nate said. "She said everybody goes too fast and gets too close to her. So when Izzy came back for her second race, that's when I got impressed."
She's had her share of "ups and downs" - her biggest up coming when she passes someone, her biggest down if she spins out or crashes.
As she did Saturday.
Izzy blew a tire during a lap in the Sport Stock finals, sending her to the pits.
"I got a flat in my front right tire," Izzy said. "It made me spin out,"
So Nate did what Nate now does.
He changed the tire and sent his daughter back out to the track.
"It's like a big family here," Nate said of the fellow racers in pit row. "Everyone came over and helped change the tire so we could get her back out there. You only have four laps to get the tire changed, so everybody helps, which makes it a lot faster."
A new tire usually means a whole new race.
Not quite this time.
Heading into turn No. 4, Izzy was passing competitor Bailey Anderson on the outside when Anderson blew a tire.
Anderson's No. 7X Pinto veered to the right, locking against Izzy's Mustang, driving both racers into the guardrail.
"I wasn't scared when I felt her crash into me," Izzy said. "But when I saw that guardrail coming up on me really fast, oh boy. It was scary."
Her Mustang sustained damage to both sides - the left from the Pinto, the right from the guardrail - but it was nothing Nate couldn't fix.
"It still drove," Izzy said. "It wasn't pretty anymore, but it still drove."
Nate understands the risks Izzy faces each time she gets behind the wheel.
In fact, he said he almost half expected her to crash earlier in the season.
"I don't want to sound mean," he said. "But, to tell you the truth, she's a girl. I never expected her to go out there and win every race.
"But I know she's going to be safe. I've made that car the safest place she'll ever be on a Saturday night for a teenaged girl."
John Vandelinder can be reached at 875-1793 or jvandelinder@craigdailypress.com.