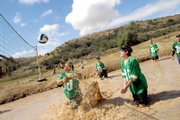 Tournament results
2008 Mud Splash mud volleyball tournament results
First place: Cook Chevrolet
Second place: Muddy Green Machines, sponsored by Tri-State Equipment Co.
Third place: Popular Bar
Faces at the annual Mud Splash mud volleyball tournament usually are different than those seen at other Craig Chamber of Commerce events, executive director Christina Currie said.
The difference was apparent at the ninth-annual competition held Saturday at Loudy-Simpson Park. Many faces during the double-elimination tournament became splashed, splotched and splattered with grime as team members bumped and dove for sodden volleyballs in mud-filled pits.
The event, a Chamber fundraiser, is "fun and different," Currie said.
And, it draws a different group of participants than some other Chamber activities, she said, including mixers and educational seminars.
"It's a different kind of event," Currie said, adding that it "caters to a younger crowd."
At the same time, she said, the tournament also brings in participants of all ages.
This year, 11 teams participated in the competition, which grossed about $1,650 in entry fees. The organization uses Mud Splash proceeds to pay for basic operation expenses, including some of the costs created by the Moffat County Visitor's Center.
In the past, Currie said, between seven and 13 teams have participated in the yearly event.
This year's number "puts us right in the middle," she said.
As usual, Mud Splash brought in returning teams. The tournament also brought in some new - albeit muddy - members into the fold.
"We saw some new faces this year," Currie said. "It was great to see that."
Cook Chevrolet's team took first place in competition, followed by Muddy Green Machines, sponsored by Tri-State Equipment Co. Popular Bar came in third place.
Trophies donated by Kester Jewelry awaited top-placing teams.
Adults weren't the only ones who got dirty during the tournament. A nearby mud pit allowed children to "muck around in the dirt," Currie said, while teams vied for first place.
The children had an incentive to get down and dirty. The Northwest Colorado Visiting Nurse Association sponsored a contest for muddiest man, woman and child.
At one point, Currie said, children were slathering themselves with mud.
Reflecting on the fundraiser, Currie said the ninth-annual event lived up to expectations.
"I was really pleased," she said.
Bridget Manley can be reached at 875-1795 or bmanley@craigdailypress.com.