Centennial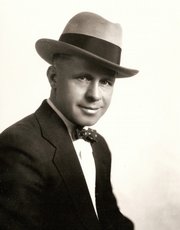 It isn't unusual these days to hear about someone claiming that a bad hard start in life is the reason they have gone off the straight path. It may seem like a good excuse, but one of Craig's favorite sons wouldn't have agreed at all.
Born May 20, 1892, in Bottineau, North Dakota, Leon S. "Ted" McCandless was motherless by the time he was 4, and he was sent to live with his maternal grandmother in Pennsylvania. Within a few years, she became too ill to care for him, and the young boy found himself in an orphanage at age ten. The next two years were unhappy ones for young McCandless until he took his life into his own hands.
On the day he turned 12, Ted left the orphanage and headed west. He spent time on a Nebraska ranch, working for room and board and then moved farther west to Encampment, Wyo. where he got a job as a shop helper in the booming frontier town. He worked seven days a week and 12 hours each day for a salary of $1.50 a day.
Two years later, he arrived in Craig in 1908, making his way through 18" of October snow. He found a job on the Haughey ranch, again working for room and board so that he could attend high school. He graduated in 1912 and continued working for the Haughey family the next three summers as he was studying at Colorado State University.
Even at a young age, the people of Craig recognized that there was an admirable determination in the young man:
"An exhibition of nerve seldom seen was noted on Main Street in town Saturday when one of the Haughey teams, containing a partly broken colt, ran away. The team was in charge of Ted McCandless and the fracas began in front of Howard's store. Ted happened to be standing on the ground near the horses' heads when the colt became frightened and began to plunge. He seized it by the bridle but was unable to control it. They ran around the bank corner, missing the bridge across the gulley, and straddled a buggy in front of Matthew's stable, with Ted still hanging to the bridle. Here they stopped for a moment, and several men rushed to Ted's assistance, giving him a chance to get in the wagon and get hold of the lines, when he discovered that one of them had become fastened in the backband of the harness and the horses being still excited began to run again. Ted climbed out on the wagon tongue, with the horses going at full speed, and finally succeeded in unfastening the rein, climbed back into the wagon and reached home without further mishap.
"No damage was done except to the Fortification Creek bridge and some groceries he was taking to the ranch." (Moffat County Courier 1911)
Ted McCandless' skill with animals would serve him - and the Craig community - for many decades after the afternoon drag race. He earned his Doctor of Veterinary Medicine degree in 1917 and returned to Craig to start a practice that would span nearly a century.
While he was still in college, he met the woman who would share his life adventures with him. Jane Grant was also a student in Ft. Collins, and the couple married secretly Dec. 8, 1916, before he graduated. She was born in Leadville on March 1, 1896, but like so many other Leadville natives, would come to embrace Craig and make it her home.
The couple settled into the Breeze St. home that would be theirs for the rest of their lives, and Ted went to work tending to the area's livestock. The couple raised three children, Grant, Neil and Jean who all shared their parents' love of Craig. The family was active in the Congregational Church and other civic organizations.
The practice was small at first, and he took up other interests to fill his days and his wallet. Throughout the following years, he sold cars, worked in real estate and became a partner in the Victory Theater with A.A. Evans, Neil Kimball and Ralph White.
McCandless was a man of many talents and interests, but certainly his best "avocation" was that of partner in the Empire Courier with Charles Stoddard Sr. The two men made an interesting combination, often sharing distinctly different political views. What they did have in common though, was a love of Craig and a desire to see the town prosper. McCandless' "Shot of Scotch" column became a staple of Craig reading material, and he often was quoted in national publications.
In addition to his many jobs around town, McCandless also found time to become a charter member of First Federal Savings and Loan in 1937. He also served 26 continuous years on the Moffat County Selective Service Board, 14 years on the State Board of Agriculture and nine years on the State Water Board.
During his tenure on the Agriculture Board, Ted had the privilege of presenting his son, Neil, his diploma when he followed in his father's footsteps and became a Doctor of Veterinary Medicine in June 1956.
The two men became business partners and built a modern veterinary clinic complete with large animal handling equipment and boarding kennels for pets. Neil operated the clinic after his father retired until he sold it in 2000. He continued practicing veterinary medicine part time for another eight years before he retired in 2008.
The senior McCandless couple enjoyed 56 years of marriage partnership before Ted's death in January 1972. Jane died Jan. 8, 1975, and was buried next to her husband.
Ted McCandless may have had a rough start in life, but he never used that as an excuse. He showed his appreciation years later in an interview when he remembered, "I found the people of Craig to be the kindest people that I ever knew. They took me right into their hearts and homes." (Craig Daily Press July 15, 1971)
He stands as a great example of community involvement and a life well lived.
Shannan Koucherik may be reached at honeyrockdogs@msn.com