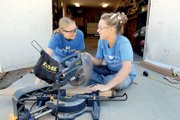 Craig — Local teens Kirsten McAlexander and Challyn Pfifer plan to stay the course until the very end.
Since first grade, Kirsten and Challyn have climbed up through the ranks in their local Girl Scout Troop, No. 201.
This year, they've reached the pinnacle of their tenure by earning the title of Ambassador, the highest rank a Girl Scout can earn.
This summer also signals the beginning of the end: This year is the last year they can call themselves Girl Scouts.
"It's amazing how they've grown," troop leader Bobbi McAlexander said as she watched her daughter, Kirsten, and Challyn go to work at the Yampa River State Park on Wednesday morning.
With hammers in hand, the two girls built kiosks, or informational signs, that will give outdoor enthusiasts information about local wildlife and fishing and safety regulations.
The signs will be placed at various sites in Moffat and Routt counties, including at Elkhead Reservoir, Bobbi said.
Kirsten, 16, and Challyn, 17, took a break Wednesday morning to look back on the nearly 12 years they've spent together as Girl Scouts. As they recall troop camping trips and hours spent volunteering with younger scouts, it becomes apparent the two had spent a good chunk of time together.
They finish each other's sentences, filling in details about a Girl Scout trip to Oregon they took together between their eighth- and ninth-grade years.
And, they remember the responsibility they shared in supervising 25 younger Girl Scouts during a July trip to Sherman Youth Camp near Freeman Reservoir.
Volunteering has been a highlight of Kirsten's tenure as a Girl Scout, she said.
Challyn agreed.
"When we were little, we used to watch all the big girls do all the volunteering," she said, adding that she had wished she were old enough to do the same.
"Now we are getting to," Challyn said. "It's so much fun."
Building the kiosks at the Yampa River State Park allows Kirsten and Challyn to give back after years of Girl Scout camping trips.
The handmade signs represent two years and three months of work, Bobbi said.
When completed, the kiosks will help Kirsten and Challyn earn their Gold Awards, the highest honor granted in Girl Scouts.
The award is comparable to achieving Eagle Scout rank in Boy Scouts.
Local Girl Scouts Katherine Dodd, Adrienne Petch and Samantha Dulmaine also are completing similar projects to earn their Gold Awards.
Earning the award takes dedication and time.
Girl Scouts working for the gold award must complete 40 hours of community service and 30 hours of leadership experience.
Girl Scouts also must participate in job shadowing opportunities and earn additional awards and badges before they can begin to build their projects, Bobbi said.
The youths must each log 65 hours working on the project once it is approved, she said, adding that the process includes gathering donations and planning the project.
"It's a long, drawn-out process," Bobbi said.
While Challyn and Kirsten chose an outdoor-oriented project, their fellow scouts, Katherine and Adrienne, are creating a video documenting Yampa Valley history for the Wyman Museum.
The troop took Samantha, also a Girl Scout, under its wing when she moved to Moffat County about two years ago, Bobbi said.
This year, Samantha planted four trees and various bushes at the Yampa River State Park and renovated a campsite for her gold award project.
The five girls represent a small percentage of Girl Scouts who continue on through their high school years. About 20 percent, or "very, very few" Girl Scouts, earn their gold awards, Bobbi said.
The number of troop members dwindles as the members grow older.
Some move away, while others succumb to the pressure to be "cool," Challyn said,
Katherine, who has been a Girl Scout since third grade, said "cool" doesn't accurately describe what the organization is about.
"It's an honorable thing to be in, in a lot of ways," she said. "It gives you a lot of opportunities."
The purpose behind being a Girl Scout runs contrary to many people's perceptions, she said.
"It's not all about going around and selling Girl Scout cookies," Katherine said. "You do a lot of service projects : and give back to the community."