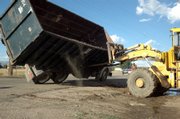 A commercial truck tipped over at Ranney and First streets Monday afternoon, leaving the driver uninjured but requiring almost two hours of cleanup.
The accident occurred about 4:45 p.m. Monday when Michael Patton, a driver for the Craig-based company Axis Steel, was driving a vehicle similar to a dump truck southbound on Ranney Street.
He was turning east on First Street when the truck tipped over on its passenger side.
"My estimation is (the load) was just too top heavy for that particular truck," Patton said.
Patton was transporting scrap steel from the city of Craig water treatment plant to Axis Steel facilities, where the material would be scrapped, he said.
Water plant operator Mike Thompson estimated the load weighed at least 2 tons.
When Patton began making the turn, his load began to tip, he said.
"It was like slow motion," he said. "First, the (load) started coming off, and it laid on its side and pulled the truck over on its side."
The truck sustained a broken mirror and a broken window. Patton walked away uninjured.
Patton underwent routine drug and alcohol tests after the incident, Colorado State Patrol Sgt. Chad Dunlap said.
Patton said he was not under the influence of drugs or alcohol when the accident occurred, adding that he was driving within the speed limit when the truck overturned.
Dunlap said that, based on his observations, neither drugs nor alcohol were involved in the accident.
Axis Steel employees spent nearly two hours after the turnover cleaning up spilled scrap metal. Using a tractor, crews set the truck back on its wheels about 5:45 p.m.
The operation interrupted traffic on First Street for close to 15 minutes.