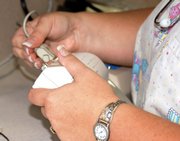 Craig — Thanks to the Department of Health and Human Services, Northwest Colorado Community Health Center will receive about $1.8 million during a three-year period to provide primary care to medically underserved clients in Moffat County and surrounding areas.
"We're really pleased," said Sue Birch, Northwest Colorado Visiting Nurse Association chief executive officer. "We know it will bring more resources to the people that really need to have assistance with their lifestyles and their health care."
The funds will pay for various expenses, including equipment and supplies, for the Community Health Center, according to a news release from the VNA, the clinic's parent organization.
The facility offers primary care to local underinsured and uninsured patients. The Community Health Center serves roughly 1,000 clients, Birch said, adding that the center's patient intake is expected to grow in the future.
Last week, officials at the VNA received word that the health center had received a Federally Qualified Community Health Center status through the Health Department's Health Resources and Services Administration, according to a news release from the VNA.
The designation is awarded to health care providers that serve medically underserved populations.
"An underserved population is one that, because of barriers to primary care, has less access to primary care than the population as a whole," Maureen Maxwell, Colorado Community Health Network policy analyst and communications manager, wrote in an e-mail.
Those barriers can include a patient's income and an inadequate number of primary care physicians in an area, Maxwell said.
Primary care includes a spectrum of services from immunization to stitches for injuries, said Dawna Brewer, Community Heath Center medical assistant, adding that the center specializes in these services.
"We're a medical home," she said.
Some patients can be reluctant to seek primary care, she said, because they lack adequate health insurance.
However, the consequences of not seeking primary care can be severe. For example, if a person injures his or her finger and doesn't have it examined, infection or, in some cases, amputation, could result, Brewer said.
The Community Health Center helps alleviate the cost of medical care by charging patients according to their income and the number of people in their family, she said.
Receiving federally qualified status opens the door to an assortment of resources. Health care providers with federally qualified status can access reduced-cost prescription and nonprescription medications and can receive "enhanced Medicare and Medicaid reimbursement," according to the news release.
The designation also awards $525,000 to the Community Health Center during the first year in a three-year cycle, followed by $650,000 allotments in each of the two years following, according to the VNA.
The clinic can apply for continued funding in the following years.
Grants like these from the Health Resources and Services Administration usually make up roughly 20 percent of a health care center's revenue, according to a news release from the HRSA.
The Community Health Center is one of 42 health centers in 23 states to receive federally qualified status this year, the HRSA reported.
Various local groups, including private medical practitioners and nonprofit organizations, have helped the Community Health Center obtain its new status, Birch said.
"It really has been a collaborative community effort to bring this resource to bear," she said.
Bridget Manley can be reached at 875-1795 or bmanley@craigdailypress.com