By the numbers
Foreclosure filings in Colorado
2003: 13,573
2004: 16,801
2005: 21,782
2006: 28,435
2007: 39,915
January to June 2008: 22,500
Source: Colorado Division of Housing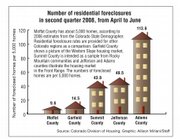 Moffat County's housing market seems to be losing steam today compared to 2007, County Treasurer Robert Razzano said, which is not helping local foreclosure rates.
Selling always has been a way for those facing loan foreclosure to not lose all the equity put into a house.
But housing demand has ostensibly cooled in Moffat County, with higher-priced homes staying on the market for longer than they did in 2007, Razzano said.
Without a stable of eager buyers, a home that might have sold in 2007 may face foreclosure in 2008.
However, Razzano said he isn't looking at the numbers as a sign of things to come. He said he was concerned there were seven foreclosures in July - the highest rate in 2008 - but one month isn't a good sample for the future.
"Foreclosures are increasing," he said. "I think that's a fair statement. Last year, though, was the lowest year for foreclosures for the last three or four years, since I've been here, so it would make sense we might see more this year."
Razzano added he doesn't see a reason to panic.
"I don't think foreclosures are going to double," he said. "If we see seven foreclosures or eight in one month like we did in July, then that would surprise me. It varies from month to month, and I'd hate to say that it's a trend after only one month."
West vs. East
Through July, there have been 31 foreclosures in Moffat County, compared to 21 during the first seven months of 2007 and 24 during the same time frame in 2006, the Treasurer's Office reported.
In the second quarter of 2008, Moffat County had roughly one home foreclosure for every 518 homes in the county. By comparison, Adams County on the Front Range reported a foreclosure on one out of every 44 homes.
The Western Slope in general has avoided the more widespread foreclosure problems seen on Colorado's Front Range, said Ryan McMaken, Colorado Division of Housing spokesman.
This area's resilience is commonly tied to housing demand from incoming energy workers, he said.
"Unless there's a collapse in the oil and gas economy out there, the Western Slope should weather this OK," McMaken said. "The demand for all that housing from workers would have to go down for foreclosures to see an increase. I would be real surprised if there were any kind of foreclosure problems in those counties."
However, some numbers would indicate that foreclosure problems are creeping westward across the state.
The Division of Housing's Second Quarter 2008 Foreclosure Report indicates that Summit County now has a foreclosure rate greater than Boulder County, though Boulder has the lowest rate of any Front Range county.
Summit County reports loan foreclosures have struck one out of every 114 homes there, according to the Division of Housing report.
The issues in Summit County likely won't translate to other mountain and Western Slope communities, though, McMaken said.
"Summit County probably feels higher rates because it's the mountain county with an economy more closely tied to the Front Range than any other county," he said. "Many people on the Front Range have second homes and vacation homes there. Fewer of those foreclosures are because people are losing their primary residence.
State of the state
On a national scale, Colorado seems to be bouncing back from an ugly 2007.
McMaken said the Mortgage Banker's Association, a national group that tracks delinquent loans, ranked the state about 25th in the number of delinquent cases.
Last year, Colorado ranked about 12th compared to all other states, McMaken said.
He attributed the drop more to worsening problems in other states than Colorado pushing past its own subprime loan problems.
Colorado is turning around little by little, though, McMaken added.
The Division of Housing report states that although Colorado projects to have more foreclosures in 2008 than 2007, the number of foreclosures is growing at a slower rate now than last year.
From January to June, there have been 16 percent more foreclosures in 2008 than 2007 in Colorado, the report states.
However, the number of foreclosures dropped 6 percent from the first quarter of 2008 to the second quarter. Foreclosures increased 6 percent over the same time frame in 2007.
The market seems to be correcting itself, as well, McMaken said.