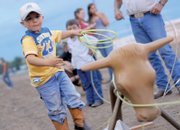 Craig — Life as a pig in Craig is no longer safe.
At least it wasn't Thursday night.
More than 100 kids - and a few parents - participated in the annual greased pig contest at the Moffat County Fairgrounds to raucous laughter and applause by a crowd of more than 300 spectators.
One by one, the swine were oiled up and released to eager participants looking for their next : meal?
"I'm bringing him home." 10-year old Bryce Tuttle said while holding his catch in a burlap bag over his shoulder. "I'm going to get him big and fat, and then I'm going to eat him."
Not too many times will you see a prize served up for dinner, but during the fair festivities, it seemed to be the popular theme.
"I'm going to butcher it," Bryanne Runnion said. "Maybe I'll split it in half to share with Brice."
Runnion teamed up with longtime friend Brice White to catch their pig.
It was a well thought out plan, executed to perfection by the 15-year-olds.
"She held on as tight as she could, and I pushed everybody away," White said. "Every year we do this together, and every year we've caught one."
The Voloshin family will be eating well, too. Payton Voloshin and her father, Mark, each caught a pig in their respective age groups.
"If it's a boy, I'm going to take it to a meat shop," Payton said. "If it's a girl, I'm going to take it home and let it have babies."
Mark wasn't thinking of food while clutching his catch.
"I'm going to make it into a football," he said laughing.
Philip Moore caught a pig without ever touching one.
"This was the first time I ever touched a pig," he said. "Until now."
Moore's daughter Emily had some success Thursday evening, as well.
In the nights opening event - bunny catching - Emily picked up the most carrots, earning her a rabbit.
"It was fun," she said. "I'm keeping my bunny."
Her smile turned to a look of shock when asked if she was going to eat it, too.
"No," she said. "I'm not going to eat it."
OK, maybe all the prizes weren't future centerpieces of a dinning room table.
When the excitement spewed from the pigpen over to the chicken cages, where two-person teams attempted to lasso the flightless birds, the crowd surrounding the chicken-roping contest could hardly contain themselves.
Even more so when one of the chickens got loose.
Fans and participants chased the chicken around the track at the fairgrounds - and into the pavilion - before it was finally corralled 10 minutes later.
When the event resumed, the chickens proved as difficult to catch inside the 10-foot cage, as they are out.
Gabby Miller had some success. She is on the high school rodeo team, after all.
"You've got to just lay it on," Miller said. "I've been doing this since they invented it."
As for the difference between roping a chicken and a calf?
"There is a big size difference," she said. "But, it's a lot of fun."
In the evening's final event - dummy roping - contestants displayed their roping skills on a fake bull.
The finals of the 5-and-younger age group came down to a tiebreaker between John William Harding and Garrett Ansen.
Ansen won in the end, but Harding's father, John Sr., said it was a night of winners all around.
"This is a fun time for everyone," he said. "Especially the kids."