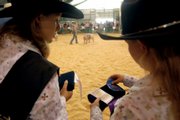 If you go
Upcoming livestock shows scheduled for the 90th annual Moffat County Fair
What: Rabbit show
When: 8 a.m. today
Where: Moffat County Fairgrounds rabbit and poultry barn
What: Market beef show
When: 10 a.m. today
Where: Moffat County Fairgrounds livestock barn
What: Poultry show
When: 11 a.m. today
Where: Moffat County Fairgrounds rabbit and poultry barn
What: Small and Large Animal Round Robin Showmanship Contests
When: 4 and 5 p.m. today, respectively
Where: Moffat County Fairgrounds livestock barn
What: Breeding beef show
When: 9 a.m. Saturday
Where: Moffat County Fairgrounds livestock barn
Craig — Travis Herod knows a thing or two about sheep.
"I've (grown) up raising and showing them my whole life," he said.
Herod, who hails from Texas, judged the breeding sheep show Thursday afternoon at the 90th annual Moffat County Fair.
He came north on a mission: to find his perfect breeding sheep.
As he speaks about the quality of a well-built sheep, his hands gesticulate and his eyebrows furrow. Shape of rib and muscle catch his eye, he said, as he looks for an animal that holds promise of producing sound-bodied offspring.
"In my mind, I got a picture of what I think a perfect (breeding sheep) is, and I try to find one that's built as close to that as possible," he said.
Herod was one of many pieces in the intricate puzzle of the Moffat County Fair's livestock shows, which include many types of animals.
At any given time during the shows, many pairs of hands were working to keep the fair on the move. Some wielded pencils, keeping track of participants' scores while fair queens handed out the ribbons to competitors as they left the ring.
The Moffat County Fair Board members are the organizers behind the event, working with committees that govern various aspects of the annual event, Fair Board President John Wellman said.
"We more or less administer and do the leg work - the grunt work - on putting on the fair," he said.
At the same time, workers in and around the ring during livestock shows make sure the show runs smoothly.
Local resident Chris Rhyne was one of them.
Rhyne, along with three other superintendents, oversaw the swine shows Thursday afternoon.
"The biggest thing that we help with is the show itself," she said.
Rhyne is no stranger to the Moffat County Fair. She showed pigs and steers as a 10-year Moffat County 4-H member.
Rhyne moved back to Moffat County about 1 1/2 years ago. When she returned, she found a task waiting for her.
"They had an opening for a superintendent, so I volunteered - or was volunteered," she said, laughing. "I don't remember which."
Rhyne didn't mind. She wanted to be a part of the fair before her young children start taking on 4-H projects of their own, she said.
"I wanted to help," she said.
Ultimately, the work that goes into the annual Moffat County Fair livestock shows benefits the youths who participate in them, Herod said.
Herod, who judges between 10 and 12 livestock shows a year, speaks from experience.
"It's done a lot for me to get me where I'm at today," he said. "It's one of the best things you can get young kids involved in."
Children and young adults of various ages leading a wide variety of animals, including goats, sheep and steers, are put to the test before a judge's critical eye every year at the fair.
This year, April Etheridge, 15, entered her second year in the breeding sheep program. She pulled double-duty this year, both as a member of the 4-H High County Cactus Kickers sheep club and as a senior queen attendant.
On Thursday, she and her ram, Doc Holliday, took their turn in the ring.
"You get really, really nervous," she said. "You wonder if you're going to be able to do what the judge expects."
Eventually, competitors' parents get wrapped up in the show.
Michelle Rasmussen, whose 10-year-old daughter, Kali, was competing in the swine show, said the experience can be nerve-wracking.
Michelle said she's the most scared member of the mother-daughter pair when Kali enters the ring.
What does Michelle do?
"There's nothing you can do," she said.
Still, Michelle tries.
She talks to herself while her daughter is in the ring, she said, reciting all the things her daughter should be doing, like keeping her hands out of her pocket and fixing her eyes on the judge.
"Telepathy, right?" she said.
Shows for rabbits, market beef and poultry continue at 8 a.m., 10 a.m. and 11 a.m., respectively today at the Moffat County Fairgrounds. A breeding beef show at 9 a.m. Saturday brings an end to this year's livestock shows.