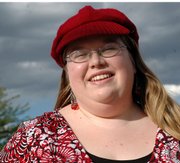 Jennifer L. Grubbs has been named the new editor of the Craig Daily Press. Her first day of work was Monday.
Grubbs, 27, is in charge of all editorial content for the print and online editions of the Craig Daily Press as well as special supplements and magazine products such as Explore Craig and Welcome to Craig.
Grubbs most recently was news editor at the Journal-Advocate in Sterling, where she oversaw a seven-person news staff in addition to other duties.
"I'm really excited to have her here," Craig Daily Press Publisher Bryce Jacobson said. "She's a talented, energetic journalist eager to embrace our community and our newspaper."
Grubbs, who was born in Denver but spent most of her childhood in Sterling, said Craig is a perfect match.
"This is a huge opportunity for me and incredibly exciting," Grubbs said. "The newspaper is very community-driven, and that's something I'm so attracted to. I love community journalism."
Grubbs said community journalism provides a chance to tell meaningful stories about real people.
"You're not just reading about some random person," she said. "You're reading about the person you sit next to at church, or the clerk at the store down the street. You're reading about something you can relate to."
Grubbs graduated from Metropolitan State College of Denver in 2005 with a bachelor's in journalism and a minor in political science. While at Metro State, Grubbs worked as a reporter, copy editor, features editor, news editor and editor for the student newspaper. She also was editor of the school's literary magazine and an intern at the Canyon Courier, Columbine Courier, Clear Creek Courant and High Timber Times newspapers.
She started her professional career in 2005 as a staff reporter at the Journal-Advocate. She eventually was promoted to assistant news editor and then news editor during her three years at the publication.
When not at the office, Grubbs enjoys punk rock music, attending outdoor concerts, reading, scrapbooking and doing graphic design.
"I want to get to know everyone, and I welcome everyone under the sun to get in touch with me, whether it's to share their thoughts about the paper or just to learn a little more about me," Grubbs said.
She can be reached at 970-875-1790 or editor@craigdailypress.com.