Centennial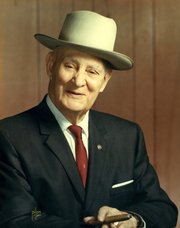 The obituary for G.S. "Major" Lawrence that ran in the Empire Courier on Oct. 18, 1967, read like a Who's Who of Craig. It was a testament to the commitment he had to his adopted home town and her people.
Gerald Lawrence was born Aug. 10, 1878, in Olathe, Kan. His father died soon after his birth, leaving him and his mother on their own. His mother, Ida, was a professional musician who taught piano lessons to supplement her income. When Gerald was 12, she made the decision - along with his grandmother - to move the family to Denver where there was more opportunity for her to ply her craft.
When he was 17, Lawrence enlisted in the Army during the Spanish-American War. His mother wasn't pleased with the idea and soon had him discharged as he was under age and she was a widow.
Still determined to serve in the military, G.S. bided his time for a few years and finally enlisted legally at age 20. He married a young girl and fathered two children by the time he earned a lieutenant's commission in the infantry. He soon decided that he preferred the cavalry so resigned his commission and re-enlisted as a private in his chosen division.
Most of his military career was spent in the United States, taking part in skirmishes along the Mexican border. His service soon brought him up to the rank of captain and when World War I began, he was promoted to major.
"He resigned his commission in 1919 with the intent of coming to Northwest Colorado and starting a cattle ranch. When his plan did not materialize, he went to work for the Colorado State Highway Department as an engineer, retiring in 1943." (Empire Courier October 18, 1967)
Margaret Johnson was born Oct. 24, 1897, near Clinton, Mo. By age 4, young Margaret would line her dolls up on the divan, give them books and then lectured to them. She was a natural instructor with a love of sharing knowledge. She began her teaching career in Missouri at the high school level before moving to Pueblo to teach.
She was teaching there when she met G.S. Lawrence. Despite nearly two decades of difference in their ages, the two hit it off and she came to his home in Craig. She tried to get a job in the Craig system, but one member of the school board would not hire a married woman. They did concede to allow her to teach in a country school, which she did for five years before board members changed and she was allowed to teach in town.
Her first teaching assignment in Craig was first grade, which she heartily enjoyed, but school Superintendent John Stoddard decided that she would be of more value in the junior high. His intuition was right, as she stayed there until her retirement in 1964, after 42 years at the head of her class.
The Lawrences worked hard to improve the lives of Craig residents, but some of their most important accomplishments were outside their jobs and after they retired.
Major was an accomplished pianist, no doubt thanks to his mother, and he spent some of his early years in Craig playing piano for silent movies in the theater. He also played for many dances and for the several civic groups in which he was active. He joined the Elks Lodge in 1930 and was the organist for that group until his death. He was a member of the American Legion, serving as Commander of the group as well as Adjutant. He was in charge of enrollment of members from 1943 until his death - finishing his last year's assignment from his hospital bed.
He was also an active member of the Lions Club, the Masonic Blue Lodge of Denver and honorary member of Yampa Lodge of Craig. He was a life member of the Order of Eastern Star, Anita Chapter.
When the Lions Club began Ride 'n' Tie Rodeo, he was on the organizing committee. He also was one of several responsible for arranging the veterans' plot in Fairview Cemetery.
After his retirement, he organized the United States Employment office in Craig and served as its manager until it was turned over to the state.
Margaret made sure Major had a wonderful birthday party each year and made the food and decorations herself, often using produce from their home garden in the menu. The parties always were well attended by their many friends.
Margaret also was an accomplished pianist and lent her talent to many organizations. She was a member of the Eastern Star for 50 years and early on began to study her lineage. This led to joining the Daughters of the American Revolution through the David Moffat Chapter in Craig on April 18, 1931, shortly after the chapter's formation.
Chapter records show she was vice regent for four years, treasurer for two, secretary for two as well as chair of two committees in 1943: Americanism, which taught patriotism and rewarded star history students, and National Defense. She remained a member of the David Moffat Chapter until it was dissolved in 1961, after which she transferred to the Mt. Garfield Chapter in Grand Junction on Sept. 1, 1961.
She continued her lineage work and was able to trace her family back to 1659 in America. She was a DAR member for 54 years until her death on March 12, 1985.
G.S. "Major" Lawrence was buried in the veterans' plot he helped to establish. Margaret's cremains were buried under a pecan tree on the farm where she was born.
Research by the Museum of Northwest Colorado staff.
Shannan Koucherik may be reached at honeyrockdogs@msn.com.