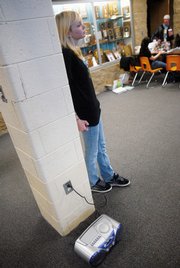 Janna Thompson, Moffat County High School sophomore, stood in the semi-darkness and waited.
Thompson was one of several high school students who occupied the high school's mirror-backed dressing room during a one-act play directed by high school student Rachel Greene-Wagner on Tuesday night.
The play was one of three performed during Rock the Arts, a two-night festival showcasing theatrical, choral, instrumental and visual arts produced at the high school.
"I'm nervous," Thompson said.
She had a reason.
Thompson would be directing Shirley Jackson's "The Lottery," which was the next play to take the stage. She, along with directors Greene-Wagner and Kyle Hawkins, chose the plays they directed and selected their cast.
Although the event caused Thompson a few pre-show jitters, she said the performance would be a "payoff" for the play's preparation.
"I'm very proud" of the cast, she said. "We've been through a lot in practices."
Thompson wasn't the only person who had a stake in the school's first festival.
Rock the Arts had been a topic of discussion between Amy Pottinger, high school English and theater teacher, and John Bolton, the high school's band director, for about two years, Pottinger said.
This year, discussion became reality.
"We needed everything to fall into place," she said.
Pottinger, Bolton and choir director Sean Teets collaborated on the event. Julia Foster, who accompanies choir performances on piano, also contributed to the group, Teets said.
On Monday and Tuesday nights, the results of their combined efforts were visible in the high school auditorium and the surrounding commons area.
Student artwork sat on tables near the auditorium entrance. Knots of two and three choir students sang selections from musicals as people came up the stairs, and high school band students performed near the high school's back entryway.
About 20 students acted in three one-act plays while about 24 students sang various numbers and three performed in the instrumental group. Several students took part in more than one performance.
Students weren't the only ones performing at the festival.
Bolton played with his pupils in the four-person band.
"I'm kind of doing this for selfish reasons," he said. Performing with students "keeps the music skills up I use to make musical decisions as a band director."
Still, Bolton believes the festival also benefited performers and spectators.
"It's good the kids are recognized for their efforts," he said. "The community can see that what these students are doing is contributing to their intellect."
Curtis Lorio, a high school sophomore performing in two of the one-act plays, agreed.
The festival shows the "talents and traits" of the high school's students, he said.
"It shows we are accomplishing something as future leaders of our community," Lorio said.
Volunteer hours from students and teachers helped make the event possible, Teets said.
Admission to the festival was free, though people who attended were encouraged to bring a can of food to donate to the Interfaith Food Bank.
"We're kind of operating with no budget here," Teets said.
Still, he and Pottinger hope the festival will show again next year.
This year's festival was "a good place to start," Pottinger said.
Next year's showing, however, could be larger.
"Who knows where it could go?" Teets said.