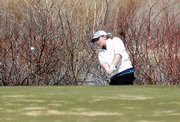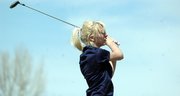 Craig — With regionals a week from today, Monday presented the last opportunity for the Bulldogs girls golf team to get in a competitive round.
Moffat County High School hosted the Bulldog Invitational - its lone home tournament - at the Yampa Valley Golf Course, and the Bulldogs took advantage of the links' familiarity.
Senior Meghan Innes carded an 81, claiming the girls individual title, helping guide Moffat County to a second-place team finish.
"All three of the girls shot their best rounds of the year," MCHS coach Ann Marie Roberts said. "They are peaking at the right time heading into regionals. This should give them a lot of confidence heading into Delta."
Roberts said two things come along with playing on your home course - familiarity and pressure.
"It's a lot of pressure hosting a tournament," she said. "Especially for the girls. It's their home course, and everyone is here watching. When it's your home course, you feel like you know everything and you should play better."
Innes did.
The senior started her round one under par heading into the fourth hole, until the greenside bunker at the fourth gave her problems.
"I got in the sand. Then I stayed in the sand," Innes said. "Then I three-putted."
Innes took a six on the hole, but shot one-over the rest of the front nine on her way to a 40.
On the back nine, Innes birdied 11, but a double-bogey on 13 erased her chance at achieving her pre-round goal.
"I really wanted to shoot in the 70s," she said. "It's frustrating because I know where I left those strokes."
Heather Nicholson worked her way to a front-nine 51, and then the sophomore said she got into a rhythm on the back.
"It started clicking for me on the back," she said. "I realized it's just a game. I have to just go out and play and have fun."
Nicholson shot par from holes 14 to 17, but closed with a nine on the par-5 18th.
"I hit two shots in the sand," she said. "Then I four-putted. I hit good drives today, though, and my putting - besides that last hole - was pretty good."
Callie Papoulas carded a career-best 47 on the front nine, but the back nine proved to be her nemesis.
The freshman closed with a back-nine 62.
"I was playing bogey golf on the front, then the back came up and bit me," Papoulas said. "The wind was blowing a bit, but that had nothing to do with it. I was three or five putting everything."
The team has six days to get ready for what possibly could be their last round of the season, at Devil's Thumb in Delta.
"The season really does feel too short," Nicholson said. "Now all we can do is practice, practice, practice. If we have a good mindset, then good golf comes with it."
Roberts said she was pleased with the team's performance and she likes what she sees heading into the postseason.
"Meghan's putts were great today," she said. "Callie shot her best nine ever, and Heather got a lot better today. We are going to practice hard this week. We'll be ready."
John Vandelinder can be reached at 875-1793, or jvandelinder@craigdailypress.com