Results
Results from the "Rampage in the Cage" cage-fighting event:
• Eli Buckner d. Ben Osborne - TKO 1st round
• Jacob Renniger d. Dale Franks - TKO 2nd round
• Cody Frederickson d. Barney LeBlanc - split decision
• Chris Scott d. Wayne Kuenning - Tap out 1st round
• Travis Linsacum d. Jason Brenton - TKO 3rd round
• Marc Leier d. Wes Doolin - TKO 1st round
• Travis Linsacum d. Chris Scott - TKO 1st round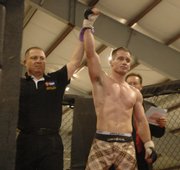 Craig — On Nov. 17, 2007, Craig resident Travis Linsacum knocked out Carl Futch in a first-round victory in the Holistic Health & Fitness inaugural cage match.
When asked if he would fight again, he said it was up to his then girlfriend - Sara Schneider.
"If I say yes, my girlfriend will have my behind : I could retire undefeated right now," Linsacum said at the time.
He didn't.
On Saturday evening, in Craig's second cage-fighting event run by Holistic co-owners Josh Magnuson and Karrie Booth's Rampage Promotions - Linsacum was found in the red corner dressing room, hood over his head, armed with a piercing stare.
"I've trained harder for this than I ever have," he said. "I'm back and ready to go."
Schneider - now Linsacum's fiancee - said that in Linsacum's last fight, his face didn't get hurt, so she let him go at it again.
"That was the first time I'd ever seen him fight (in November), so I was just worried," she said. "You don't want the person you love getting hurt. He trains for two to three hours every night. It's a Linsacum thing. They have to fight."
After Saturday evening's results, Schneider turned from a woman engaged to a part-time fighter, into the woman about to marry the new welterweight champ.
Linsacum knocked out Jason Brenton in the third round of his first match, pitting him against Chris Scott - who earned a tap-out victory against Wayne Kuenning - for the title in the evening's final bout.
Linsacum comes from a wrestling family. His father is a wrestling coach at Moffat County High School - where Travis was a two-time state champ.
In the title fight, Linsacum did what the Linsacums do best - he took the fight to the mat.
Linsacum body-slammed Scott into the mat in the first 30 seconds, jumped on top and hit the dazed Scott with a flurry of punches.
The fight was called less than a minute after it began, and Linsacum had come out unscathed.
"It feels good to be the champ," Linsacum said. "I'm glad it's over. I'm tired, but I'm still undefeated. I just enter a whole new mindset when I'm out there. It's unlike anything I've ever experienced. You can't even put it into words. The crowd is unreal, it puts me at a whole other level."
Linsacum trained the past few months with Eli Buckner and Cody Frederickson.
The threesome must have had a secret - each went undefeated with Frederickson earning the light heavyweight belt.
Buckner led off the evening, fighting for the first time in an organized event.
The MCHS senior was paired against Ben Osborn - a foe who out-weighed Buckner by 59 pounds.
It didn't matter.
Buckner connected with a hard right hand, knocking Osborn to the mat. Buckner then kneed Osborn in the head and landed an uppercut that bloodied his opponent's face to the point that the fight had to be stopped.
A first-round TKO victory for the first-time fighter.
"It was nice and bloody," Buckner said. "That's what I wanted. I was nervous at the start, but once it started, it was on. I got him twice with a Superman punch. Once I got position, I started teeing off."
Frederickson won a split-decision against Barney LeBlanc to earn his belt.
"A lot of my striking went out the window, and I just started brawling," Frederickson said. "I wasn't really thinking clearly - it all just goes by so fast. Once I got on the ground, I was more comfortable."
It was Frederickson's first fight, and he's the new champ.
"All three of us really worked hard training-wise," he said. "And, it paid off for all of us."
So will Schneider let Linsacum defend his crown in Rampage Productions' next fight in August?
"We are getting married right after the fight, so no way," she said. "I still don't want his face messed up for the wedding."
John Vandelinder can be reached at 875-1793, or jvandelinder@craigdailypress.com