Centennial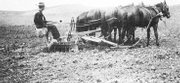 Craig — It wasn't unusual for homesteading families to move on to what they hoped were greener pastures and another homestead. Rowland and Laura Finley grew up on Iowa farms but ended up in Colorado.
In 1878, they left Iowa to claim a homestead in Kansas. Their second child, a daughter, Livonia, died during their wagon trip to Kansas and was buried on the prairie. Carrying their grief with them, they worked a homestead near Goodland, but after nearly 20 years of fighting the dry prairies, they decided to move on farther west.
Rowland had visited Craig earlier and felt that the growing community with its rich river bottoms and open spaces would be a better place to settle down. He and Laura packed up their family of four children into a wagon in 1897 and headed across the Continental Divide. They came through Buffalo Pass on their way into the Yampa Valley.
The Finleys settled into the "Tilton Place" (now part of the Yampa Valley Golf Course) on the banks of the Yampa River and began working the rich meadows. They would spend the rest of their lives contributing to the development of Craig and northwestern Colorado.
William Penn Finley was born on June 1, 1880, in Kansas. He was a teenager when his family came to Craig, and he worked on the family ranch and taught school for about two years before he headed back east to attend Western University of Pennsylvania. He graduated salutatorian with a degree in civil engineering in 1904.
After graduation, Finley returned to Craig to put his education to work. He opened an office and soon was very busy surveying oil and gas leases, homesteads, mining claims, roads and irrigation systems. He shared in the privilege and responsibility to lay out roads that still crisscross the county today.
In addition to his engineering work, Finley found time to be very involved in Craig social life. He was a member of the Masonic Order, serving in every chair of the Craig Lodge. He was also a member of El Jebel Shrine in Denver and the Order of the Eastern Star.
He enjoyed his work with the Lions Club, for which he served in several leadership capacities both locally and at the state level. He also served on the Craig Town Board and as a director of the First National Bank of Craig.
He met Muriel Bryan, another Iowa transplant, and courted her for several years before marrying her on March 14, 1906. The couple raised their three children on their homestead near Craig (area of present day Finley Lane) and showed them by example how to be valuable members of their community.
Sometimes it seems as though the best people are taken away all too soon. Such was the case with William Finley. He suffered a severe stroke and moved to Denver two years prior to his death, but when he died on April 22, 1931, at age 51, his body was brought home to Craig where many people turned out to show respect and affection for this man who had given 30 years of his life to the development of Craig and Moffat County - its physical and social development.
A true man of many talents, William Finley also wrote a regular column for the Craig Empire in which he share his views on life in general and Craig specifically. His obituary carried a quote from that popular column; "God makes no mistakes," according to a April 29, 1931, Craig Empire article. "Every individual is created for a purpose. That is: as individuals we are endowed with certain inherent talents. Living in harmony with the plans and purposes of God implies using the talents God has given you, in service to your fellow men."
It seems fitting that the Craig street named after William Penn Finley leads to Moffat County High School where many of Craig's future leaders are discovering their talents and learning the things that Mr. Finley knew so well - education, and service to the community are the best gifts a person can have, and give.
Shannan Koucherik may be reached at honeyrockdogs@msn.com. Article written for the Craig Daily Press and the Museum of Northwest Colorado.