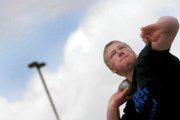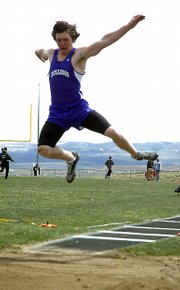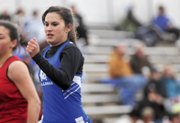 Track Results
Results from Clint Wells Invitational
Team scores
Girls
1. Moffat County High School 154
Boys
2. Moffat County High School 104.5
Girls 100-meter dash
1. Erin Urbanoski 12.94
6. Millie Blackstun 13.56
8. Lauren Roberts 13.71
Girls 200-meter dash
4. Kylie Bauman 28.25
5. Angie Charchalis 28.30
6. Megan Knez 28.47
Girls 400-meter run
1. Angie Charchalis 1:03.02
7. Megan Knez 1:07.94
Girls 800-meter run
1. Alicia Nelson 2:30.00
2. Maddy Jourgensen 2:30.70
6. Nike Cleverly 2:46.92
Girls 1600-meter run
1. Alicia Nelson 5:29.19
10. Katy Nottingham 6:29.95
15. Raquel Robinson 6:52.46
Girls 4x100-meter relay
1. MCHS 53.55
Girls 4x400-meter relay
1. MCHS 4:14.18
Girls 4x800-meter relay
1. MCHS 10:31.96
Girls 800 sprint medley relay
1. MCHS 1:55.17
Girls long jump
1. Erin Urbanoski 16-3
2. Lauren Roberts 14-7 3/4
9. Britteny Ivers 13-3 3/4
Girls triple jump
3. Tasha Romney 29-6 1/2
Girls high jump
2. Lauren Roberts 4-6
11. Britteny Ivers 4-2
Girls shot put
2. Myiah Bengston 35-3
11. Jessica Asselin 27-10 1/2
16. Shylar Hadley 27-02 1/2
Girls discus
4. Myiah Bengston 96-11
8. Jessica Asselin 80-8
9. Shylar Hadley 79-9
Boys 100-meter dash
3. Brian Ivy 11.83
Boys 200-meter dash
4. Colton Conrad 23.77
10. Drew Turner 25.00
Boys 400-meter dash
2. Josh Classen 54.80
7. Corey Wojtkiewicz 56.79
Boys 800-meter run
1. Mike McNicol 2:11.91
2. Paul Nelson 2:12.29
Boys 1,600-meter run
10. Colt Criswell 5:16.97
16. Kevin Murray 5:52.84
Boys 110-meter hurdles
9. Jeremiah Gordon 18.04
10. Cole DuBois 18.11
Boys 300-meter hurdles
6. Cole DuBois 44.83
Boys 4x200-meter relay
1. MCHS 1:34.80
Boys 4x400-meter relay
1. MCHS 3:42.52
Boys 4x800-meter relay
1. MCHS 8:46.48
Boys long jump
4. Brian Ivy 18-7 3/4
Boys triple jump
2. Brian Ivy 42 1/2
Boys shot put
1. JT Haddan 52-8
14. Dillon Guinn 38-8
16. Jeremiah Gordon 35-9 1/2 Boys discus
1. JT Haddan 152-10
17. Curtis Lorio 102-1
20. Gage Spears 100-6
Sitting inside the timer's tent, Moffat County High School girls track coach Todd Trapp couldn't see much of Friday's action.
As hosts of the Clint Wells Invitational, he and MCHS boys coach Gary Tague - who was in the press box working the public annoucement system - weren't offered the opportunity of other team coaches.
No running on the sideline with the Bulldog team members.
No pep talks before an event.
Not even a chance to see their athletes perform on the home turf.
It didn't matter.
When Trapp recorded a winning time, many of them were from his team.
When Tague let the fans in attendance know those results, several times the names were Bulldogs.
When all was said and done, the MCHS girls team captured first-place in the Bulldogs' lone home meet of the season, and the boys placed second.
The girls team tallied 154 points, 86 more than second-place West Grand.
Erin Urbanoski continued her domination in the 100-meter dash and the girls long jump. The junior won the 100 in 12.94 seconds and recorded a distance of 16-feet-3 inches to easily capture first in the latter event.
Urbanoski also anchored the 4-by-100 relay team to a first-place finish in 53.55, and she ran the third leg of the first-place winning 800 sprint medley team, which clocked in at 1:55.17.
"I'm just glad the 100 is over," Urbanoski said. "Long jump is fun. The 100 is just nerve-racking. I felt pretty good. It's hard with the wind, but it was fun."
Junior Alicia Nelson placed first in the 1,600 in 5:29.19 and was cruising along in the 800 until she felt a competitor on her heels.
Fellow Bulldog Maddy Jourgensen - a freshman - pushed Nelson through the finish line, with the duo finishing 1-2 in the event. Nelson clocked in at 2:30.00, Jourgensen, 2:30.70.
"I did all right," Nelson said. "My times weren't good because of the weather, but I'm happy I won.
"Maddy is doing well. We are supposed to stay together and pace each other, and we just go. I don't know how much longer I have until she catches me."
Jourgensen and Nelson teamed with senior Angie Charchalis and junior Kylie Bauman to place first in the 4-by-400 relay, finishing in 4:14.18 and teamed with freshman Nike Cleverly and sophomore Katy Nottingham to claim victory in the 4-by-800 relay, finishing in 10:31.96.
Charchalis won the girls 400 by a fraction of a second. Charchalis ran the one lap required in 1:03.02, bettering the 1:03.02 recorded by Soroco's Sarajane Rossi.
"I've won before, and it's nice," Charchalis said. "It is so much more mental than the other sports I play. It's all me, by myself all in my head."
Trapp was proud of the girls, despite not being able to see them perform.
"Just from being back here behind the computer, I know our girls dominated today," Trapp said. "All around. Field events, on the track, everybody has done well out here today."
Trapp and Tague also couldn't see the performance senior J.T. Haddan put on in the boys shot put.
Heading into Friday's meet, the MCHS school record was 51 feet, 6 inches.
Haddan won the event and broke the school record on four consecutive throws, his final - and the new school record - landed at 52-08, breaking the record by more than a foot.
Haddan also won the boys discus with a toss of 152-10, bettering the state qualifying throw of 147-4.
"I still want 55 (feet)," Haddan said of the shot put. "But I'll take a new school record and a state qualifying throw in the discus any day."
Senior Mike McNicol edged teammate Paul Nelson in the boys 800.
McNicol won in 2:11.91. Nelson finished second in 2:12.91.
"It was a tough race," McNicol said. "It was really windy. More bad wind than good wind, but a win is a win."
McNicol teamed with Josh Classen, Corey Wojtkiewicz and Tucker Bilodeau to win the 4-by-400 relay in a time of 3:42.
The 4-by-200 relay team of Classen, Bilodeau, Colton Conrad and Brian Ivy captured first in 1:34.80, and the 4-by-800 relay team of Nelson, Bilodeau, Classen and McNicol clocked a time of 8:46.48, winning by nearly 20 seconds.
MCHS competes in the Tiger Invitational beginning next Saturday in Hayden.