Centennial
Winners
Brothers of the Brush award winners
• Grand prize: John Garcia Jr.
• Longest beard: Chris Booth
• Blondest beard: Todd Bellio
• Most colorful beard: Albert Villard
• Fullest beard: Scott Shaffer
• Wisest beard: Don Stevenson
• Reddest beard: Bob Rogers
• Blackest beard: Mike Fuller
• Most feeble attempt: Dean Brosious
• Whitest beard: Terry Carwile
• Grayest beard: Dick Butler
• Santa Claus award: Jim Robertson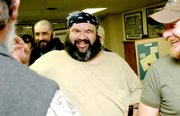 Craig — Dan Davidson, Museum of Northwest Colorado director, stands amid the growing crowd and looks up.
It's Monday night, and people are filing in to watch a ceremony honoring the 100th anniversary of Craig's incorporation.
From where he stands on the museum's ground floor, Davidson can see posters hanging from the second-floor balcony above him. The banners, which bear photographs of people who shaped Craig's past, were part of an exhibit celebrating the centennial.
"I think I've met everyone in this exhibit," he said, still looking at the posters, "and all but one are gone."
He paused.
"I could tell you a story about every one."
Craig's centennial also is a personal milestone, Davidson said.
Although the opinions of Craig's progress differed among Moffat County residents who gathered for the opening ceremonies of the centennial celebration, most people agreed with Davidson.
The ceremonies kicked off a 100-day celebration that will extend into the summer and feature, among other events, an AirFest and a performance by the band Three Dog Night.
And for 46 Craig residents who grew beards for the Brothers of the Brush beard contest, the ceremony also marked the end of a 100-day shaveless stretch. The contest heralded back to a similar event for Craig's 50th anniversary celebration in 1958.
Dick Butler, a 72-year Craig resident, entered the first beard-growing contest 50 years ago. This year, he joined the bearded brotherhood once more. This time, his son, Mike, accompanied him.
Craig's centennial also gave Dick an opportunity to reflect on Craig's past.
He concluded that most of the changes Craig has experienced have been positive.
"I've seen a lot of changes," Butler said, "most of them good. It's been good to be a part of it."
Erv Gerber, also a longtime Craig resident, disagreed.
Gerber believes Craig and the surrounding areas have changed for the worst in recent years.
"It'll never be good again," he said. "They've done ruined it."
He attributed the change to population growth and a shift from agriculture to energy industries.
Gerber said Craig's centennial didn't hold much personal significance.
"I guess it's just another birthday," he said.
Mayor Don Jones, however, held a different view.
Jones' family moved to Craig in 1958, the year of the 50th anniversary celebration.
"I was a wee lad then," he said, laughing, adding that he remembered his father growing a goatee for the first beard growing contest.
The centennial "is just a milestone : of how Craig has changed and how it progressed," he said.
And although Craig has experienced changes, "The character of our community has remained constant," Jones said in a speech during the ceremony.
Still, Jones voiced his optimism before he stepped on the stage Monday evening.
Before the celebration began, Jones surveyed the crowd as it came through the museum doors.
"I think this will be a great kickoff," he said. "If this is any indication of what's to come, we're going to have a great 100 days."