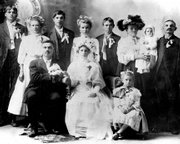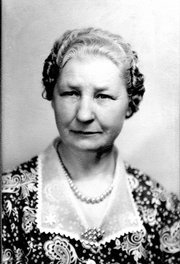 Craig — No one would argue that developing frontier lands took a lot of hard, physical work to make sage brush into fertile fields and empty places into bustling communities.
We often think only of the homesteaders who lived in dugouts, tiny cabins and other makeshift homes while they developed their dreams, but we also need to acknowledge the contributions of those who helped to design and build the infrastructure that any community needs.
One such contributor to the growth of Craig was Joseph Biskup, who came to Craig in 1908 as a newlywed and spent the rest of his life building Craig.
He was born in Czechoslovakia in March 1885 and came to the United States with his family at the age of 3.
After a short time in Pennsylvania, the family moved to southern Colorado and made their home in Rockvale. Joseph completed high school there and then went to Trinidad to continue his education in civil engineering. While still in school as a teen, he entered the work force of the mines, working underground alongside many other early residents of Colorado.
When he received his engineering diploma however, he was able to begin his career above ground.
During the years that Joseph was growing up in Rockvale, a young girl was growing up in his family's hometown in Czechoslovakia.
Born on July 11, 1886, Eva Petricko grew up working hard on her parents' farm. When she was about 6, her father left for the United States, returning eight years later with the American farming techniques he had learned. He quickly and enthusiastically used his newfound knowledge to begin a custom plowing business for his neighbors. He helped his customers produce even more from their fertile lands than they had been able to before.
A neighbor of the Petrickos, Mike Hudack, had made several trips to the United States, and when Eva learned that he was going to try his luck in Canada, she begged to go with him. She had a half-sister there, and her parents were finally persuaded to allow her to accompany the neighbor, posing as his daughter.
Like so many immigrants before her, she arrived at Ellis Island carrying everything she owned - including her feather bed - in a bundle. She went north to Canada and found employment with a dentist and his family. This family was very kind to her and worked hard to teach her English as they learned her native tongue.
In the meantime, Hudack had moved on to Rockvale instead of Canada. He knew the Biskup family and began to tell Joseph about the beautiful young girl he had helped come to America. Joseph began corresponding with Eva and within a couple of years, he wrote to propose marriage.
After thinking the proposal over for awhile, Eva agreed and came to Colorado to meet her husband-to-be. The couple was married shortly after her arrival and began their life together on Aug. 11, 1907. Their wedding portrait shows them sitting next to each other, barely touching hands, but their bond quickly grew strong and they lived happily together for more than 30 years.
When the couple arrived in Routt County, they spent some time with Joseph's parents in Craig before taking up a homestead on Breeze Basin.
Joseph was elected the first county surveyor when Moffat County was formed and served three terms. In that position, he often was away from home, leaving Eva to tend to the homestead as well as their three children.
"Biskup was instrumental in the organization of the Northwestern Construction Company," according to a June 30, 1937, Craig Empire-Courier article. "This company with Mr. Biskup as engineer contracted the construction of a large number of road projects in Northwestern Colorado. Among the projects (were) the bridge and channel project on the Yampa River just south of Craig : the highway from Steamboat Springs up Elk River and the road from Craig eastward."
The Biskups moved from their homestead into Craig in 1923 so that they could be more involved in the town they had claimed as their own. Joseph served as the city engineer for many years and in that capacity supervised the construction of city streets and other improvements to the town.
The couple was active in St. Michael Church, and Joseph was a well known and outspoken Republican voice in local and national politics.
On June 26, 1937, Joseph Biskup went to work on a new bridge at the north end of Yampa Avenue. He told one of his co-workers that he wasn't feeling well and went to sit in his car to rest.
"A few minutes later, one of the men on the job went to the car to ask about some detail of the work. He found Mr. Biskup unconscious."
Joseph Biskup died later that morning at his home, having lapsed into a coma. His funeral procession was more than a mile long, demonstrating the respect and affection the community had for this man who had devoted most of his life to building Northwest Colorado and especially Craig.
Shannan Koucherik may be reached at honeyrockdogs@msn.com. Article written for the Museum of Northwest Colorado and the Craig Daily Press.