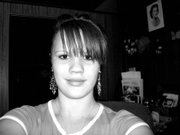 Craig — The family of Brandi May Gourley, a 16-year-old Moffat County High School sophomore, is looking for her and asking for the public's help.
The teenager was last seen Monday at the high school, her family reported, and may be on her way to New Mexico. She is described as 5-foot-1, 130 to 135 pounds, with brown eyes and red and black hair.
Walt Vanatta, of the Craig Police Department, said officers took a report Monday night about Gourley possibly running away from home.
If anyone has information as to her whereabouts, call the Craig Police Department at 824-6501 or Robert and Sabrina at 824-3023.
Uintah County theft suspect arrested
Lieutenant John Laursen, of the Uintah County Sheriff's Office, said about $8,000 to $9,000 worth of copper wire was stolen from the Anadarko Yard in the Book Cliffs in Uintah County.
The wire loaded into an allegedly stolen Pyramid Truck. On Monday, authorities with the Uintah and Moffat counties sheriff's offices, the Bureau of Land Management and the Colorado Division of Wildlife, caught up with the suspect allegedly behind the theft.
Danny James Winner was found on a back road in southwest Moffat County.
Authorities reported he possibly ran out of gas with the stolen wire, and when his vehicle was located by Moffat County deputies, he hid in the brush, resulting in a three-hour search.
The Division of Wildlife flew over the area looking for Winner. When he was located, authorities reported, he tried to flee on foot, but was chased down by a BLM officer in his truck.
During the chase, Winner allegedly threw away sunglasses containing narcotics. He was arrested and booked into the Moffat County Jail on suspicion of possession of stolen property and possession of narcotics. In Uintah County, he faces theft, burglary of a business and misdemeanor charges.
The total estimated cost to Anadarko is $29,000.