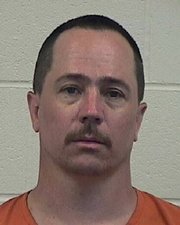 Story at a glance
• Wyoming authorities find convicted Craig man at hotel.
• Jury convicted man Wednesday of second-degree assault and he faces prison time.
• Failed to appear in court for jury verdict.
• He was found in Evanston, Wyo., a town about 273 miles from Craig.
• Disappearance prompted one Craig resident to request additional patrols of home and property.
Authorities in Evanston, Wyo., arrested a Craig man at a hotel late Friday night on a warrant for failing to appear for a jury's verdict in Moffat County.
A jury convicted Steve Tamlin, 41, on Wednesday in Moffat County District Court of second-degree assault and a crime of violence sentence enhancer. The penalties carry a mandatory Department of Corrections sentence.
However, Tamlin did not appear for a reading of the jury's verdict and judge Michael O'Hara issued a bench warrant for his arrest.
Bill Jeffers, a lieutenant and public information officer with the Evanston Police Department, said two officers spotted a vehicle Tamlin was reported to be driving with matching Colorado plates about 11 p.m. Friday in the hotel parking lot.
Evanston is a town in the far southwest corner of Wyoming, approximately 273 miles from Craig, near the Wyoming-Utah border.
The officers found Tamlin, who has an extensive criminal history in Moffat County dating back to at least 1991, including convictions for burglary, assault, domestic violence, violating a protection order, escape and criminal mischief, among others, in a hotel room.
Police reports about Tamlin indicated he is "very violent," Jeffers said, though officers took him into custody Friday without incident.
Tamlin was searched for weapons, Jeffers said, and was found with a small knife in his pocket. He was then taken to the Uinta County Jail and booked in on the Moffat County warrant; he faces no local charges from his short time in Wyoming.
Investigator K.C. Hume, of the Moffat County Sheriff's Office, said there is no timetable on when Tamlin will be extradited back to Moffat County, where he awaits sentencing on his recent trial convictions.
"Once they give us a call, we'll go get him," Hume said.
According to the Moffat County criminal complaint, Tamlin assaulted a man in August 2007. He also faced two counts of intimidating a witness/victim, though the jury found him innocent of one count and the court dismissed the other during trial.
His disappearance prompted at least one Moffat County resident to request additional patrols of his or her home.
Hume said there was no contact between Tamlin and the resident, who left town for the weekend, and his or her property.
"We continued to do extra patrols in case he showed up, but there was no contact at all," the investigator said.
A sentencing hearing for Tamlin has not been scheduled.
Deputy District Attorney Jeremy Snow said he could not comment on whether Tamlin would face additional charges in Moffat County for fleeing. When returned, Tamlin will be held without bond, he said.