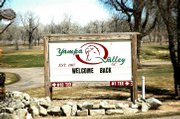 Yampa Valley Golf Course
2179 Hwy 394
8:30 a.m. Pro shop opens
9:30 a.m. Course opens (until dark)
Rates
Craig residents: $25 (walking 18 holes)
$17 (walking 9 holes)
Non-residents: $36 (walking 18 holes)
$24 (walking 9 holes)
Cart fees: $12 (18 holes) $6 (9 holes)
For more information call 970-824-3673
Tin Cup Grill
9 a.m. to 9 p.m. seven days a week
For more information call 970-824-3764
Nick Navratil had been waiting.
Waiting for the snow to melt, the grass to turn green and for the opportunity to tee off at the Yampa Valley Golf Course.
On Monday morning, Nick's waiting was over.
At precisely 9:34 a.m. Navratil teed off on the par 5, 519-yard 10th hole signifying what many Craig residents have been waiting patiently for.
The Yampa Valley Golf Course is now open.
"I was having golf withdrawals," Navratil said when asked why he was the first golfer to tee it up at Yampa Valley on its opening day. "I've been hitting balls in the snow, traveling to Steamboat to hit balls indoors and putting in my living room.
"It's about time it opened."
Such was the case for many of the more than 75 golfers who teed it up Monday, and first-year head pro Brett Etzler said many more would follow.
"We had a really busy day today," Etzler said. "Word is getting out that we are now open, and people are coming from all over. We had people from Steamboat and people all the way from Baggs, Wyoming. It's been a lot of fun around here today."
Snow can still be found in the sand/snow bunkers throughout the course but assistant Willie Barclay said not to worry.
If a ball is hit in the snow, golfers receive a free drop.
"It's really nice to finally get out here and smack around a few," Barclay said. "It might take us a little while to get it perfect, but we are on our way."
A few dry patches could be found on the greens, as well as what seemed like mice highways cutting through the fairways, but all in all, many of the golfers found hacking away Monday said they were pleased with the course conditions.
"For how bad our winter was, the course was great," Navratil said. "The greens were good, fast, but not too fast."
As for the score carded by Yampa Valley's first 18-hole finisher for the 2008 season?
"I did pretty good," Navratil said. "I shot an 84."
The pro shop was busy, as can be expected on opening day, with many Craig residents lined up to purchase memberships.
Duan Laabs stood at the pro shop counter, checkbook in hand and dreams of birdies in his mind.
Laabs signed up for a full membership for the first time.
"I have no idea how I'm going to play," Laabs said. "I know I'll get out here at least two times a week, but how I shoot, that's a different story.
The inaugural men's club tournament was canceled May 10, but Etzler wanted interested golfers to know the Dirt Hog Scramble is on the horizon.
A scramble tournament for men only is being held April 26, beginning at 9 a.m. sharp.
"The event is a lot of fun," Etzler said. "If you're thinking about signing up, don't think about it. Just sign up."
Of the more than 75 golfers present Monday, none would admit it was their first time on the links.
All except Cort Murphy. Cort is 3-years old, and he's taking the sport up for the first time.
Teeing off with his father Calvin, Cort split the tenth fairway like a PGA tour professional. The ball didn't go far, but his father said the game would, in his son's mind.
"We've been waiting a long time for this place to open," Calvin said. "We will be out here at least three to four time a week."
Jared Briggs, who had his own remedy to passing time waiting for the course to open, filled out the threesome.
"I just drank a lot of beer until it opened," he said. "I'm happy it opened, I was drunk a lot."
Patrick Turton purchased new Titelist DC1 irons during the winter break, and he said he was "itching" to get out and try them out.
"I'm ready," Turton said. "I've been ready. I got new irons, and I'll be out here at least 20 times."
Apparently, so will many others.