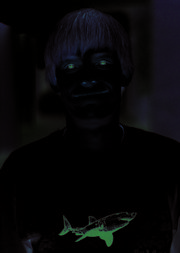 Michael Zehner, Moffat County High School junior, had one last chance to qualify for a national competition.
He capitalized on that opportunity.
At a speech and debate competition in Fort Collins last month, Zehner qualified for the 2008 Desert Lights Nationals competition.
Twice.
Zehner took first place in extemporaneous speaking at the competition. At the same time, he placed second in an event that simulates congressional debates. The person who placed first in the congressional event chose to qualify in another area, Zehner said, giving him a first-place ranking by default.
Students can qualify for nationals only in one event, said Eric Hansen, high school speech and debate coach.
Zehner decided to compete in the latter event at the national competition in June. There, he will join Greg Blackstun, another congressional debater who qualified for nationals in February.
Assistant Coach Amber Clark believes his efforts merited the achievement.
"The kid poured his heart and soul into this," she said. "We expected him to qualify for nationals. He's just a stellar young man."
Qualifying for nationals was a rewarding culmination to Zeh-
ner's speech and debate season.
"I feel great," he said. "It was definitely rewarding to go through the entire year, and its all leading up to that big moment.
"It's a great feeling to know I'm going to nationals, for sure."
Zehner said he plans to prepare for the competition by practicing debates during his leisure time. He must be well versed on more than 80 topics, any of which he may need in his debates, Clark said.
"In debate, it's important (that) you're not only able to respond to your opponent's arguments, but to do it in a professional manner," she said. "You need to think on your feet (and) logically analyze the situation."
The competition will require Zehner to display the same knowledge and poise voters look for in congressional delegates, Clark said.
Still, Zehner said he is excited for the event.
"I hope that I can actually prove to compete on the national circuit," he said.
He and Blackstun are "hoping to do the best that our abilities allow and we want to test those against the nation," Zehner said.