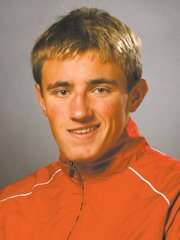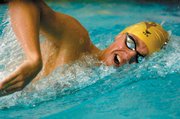 Steamboat Springs — These days, it seems like Blake Worsley and the University of Denver have always been a perfect fit.
But there was a time when it seemed as if Worsley just didn't fit in at most colleges. Coaches felt the stellar swimmer had potential but thought recruiting him would be a gamble. Luckily, Worsley made an impression on former University of Denver coach Jim Henry during a summer camp and got the coach to take his future into consideration.
"The DU coach said he never would have recruited Blake if he didn't know him from (summer) camp," Blake's mother, Patti Worsley, said last week.
Henry's gamble turned into good fortune for DU's next swimming coach, Brian Schrader.
"Steamboat Springs isn't exactly a swimming hotbed," Schrader said. "The great thing is that Blake is a perfect fit for our program. I need swimmers who want to take our program to that next level, and he wants that next level, too."
Late last month, Worsley pushed the DU program to its highest level in recent memory by racing to a 10th-place finish in the 500-yard freestyle event at the NCAA Swimming and Diving Championships at the Federal Way Pool in Seattle.
Worsley finished 16th in the preliminaries of the event, with a school-record time of 4 minutes, 19.68 seconds. Then he improved on that time in the finals, when he finished second in his heat and 10th overall with a time 4:17.89. The finish helped him become the first All-American at the university since Denver returned to Division I in 1998. He also had personal best times in the 100- and 200-yard freestyle events. Blake was 41st and 23rd, respectively, in those events.
"I was pleasantly surprised," Schrader said of Worsley's 10th-place showing. "I can't say I didn't expect it. He's worked extremely hard this season, and he's totally dedicated to our program."
The finish was also a surprise to Worsley, who was just named student athlete of the week at his school. He says it's surprising because he just started swimming the 500-free at the end of last season and was ranked 21st in the country headed into the championships.
"I was definitely not expecting that finish going into the event," Worsley said. "It was a new level for me."
Eye on 2012
Schrader said Worsley has gotten progressively better at the event this season, and his times have dropped dramatically. In his first 500 last season, he finished in a time of 4:46. At the start of this season, his times were two seconds slower than last year. But Schrader says Worsley has continued to work in the pool, which has resulted in his improvement. He is hoping to get stronger as he looks forward to his senior year at DU, where he is majoring in marketing and real estate.
"I think this finish will open up new doors in my swimming career," he said. "It's going to give me a new perspective to get to that next level. It lets me know where I stand in the world and where I stand in the country."
Following the NCAA championships, Worsley traveled north of the border to chase his dreams at the Canadian Olympic Trials. Worsley has dual citizenship and was hoping to make the 2008 Olympic cut in Canada, where his chances of landing an Olympic Team spot were slightly better than in the United States.
He placed fifth in the 400-meter long course freestyle race with a time of 4:00.8 - and just missed the cut for an Olympic spot. However, he did earn a place on an international team that will host France and Great Britain the first weekend in August.
Worsley said he is excited about getting his first taste of international competition outside of the college pool and thinks the experience will make him stronger.
Schrader agrees, saying that if Worsley can stay fit and maintain his momentum for the next four years, he could make another run for the 2012 Olympic Games in London.
-To reach John F. Russell call 871-4209
or e-mail jrussell@steamboatpilot.com