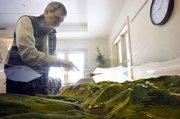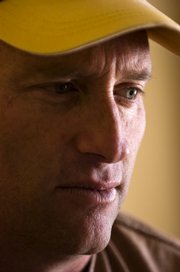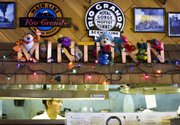 Exploring annexation
The three-part "City limits" series examines annexation proposals in communities including Minturn, Durango, Granby and Hayden, and how they relate to Steamboat. Look for installments in the April 20 and 27 Steamboat Pilot & Today.
By the numbers
Town of Minturn by the numbers
- Population: 1,132
- Current number of housing units: 448
- Housing units proposed at Battle Mountain: 1,700
- Current total land area: 1.38 square miles
- Battle Mountain land area: 8.28 square miles
- Median household income in 1999: $51,736
- Median home value: $312,700
- 2006 town budget: $1.3 million
- Projected town budget at Battle Mountain build-out (20 years): $11.7 million
- Sources: U.S. Census Bureau, Minturn.org, Ginn Development Co.
Steamboat 700 by the numbers
- Size: 700 acres
- Buildout: 10 to 25 years
- Residential units: 1,827 to 2,243
- High-density residential units (condos, townhouses, apartments): 45 percent
- Small, single-family lots (less than 8,000 square feet) or duplexes: 36 percent
- Square footage of commercial/nonresidential uses: 272,000 to 331,000
- Affordable housing target: 80 percent to 150 percent AMI (area median income)
- Permanently deed-restricted housing provided by developer: 20 percent (367 to 448 units)
- Topography: Most slopes 5 percent to 15 percent, some 30 percent or more on bluffs and hillsides
- "Village centers:" Three to four stories
- Open space: 221 acres (32 percent)
- Trails: 10+ miles
- Infrastructure cost: $103 million
- Additional off-site automobile trips a day generated: 14,000
- Source: Steamboat 700 Initial Submittal, November 2007
Steamboat Springs — There is a rift between Ginn Resorts' Minturn headquarters and the town outside.
The office is within hollering distance from town staples such as The Saloon, where bushed skiers gravitate after the famed Minturn Mile. But with swanky features such as enormous flat-screen monitors and plush leather chairs, the office's executive suites sit in severe distinction from the gritty town it calls home.
It's a distinction that looks to manifest itself on a much grander scale should Florida developer Bobby Ginn's vision of a private ski and golf resort on Battle Mountain come to fruition.
"Minturn won't be Minturn anymore," said Steamboat Springs City Manager Alan Lanning, a former town manager in Minturn. "Or there will be two Minturns: the old and the new high-end."
The project took a major step forward when the Minturn Town Council unanimously approved Ginn's petition for annexation Feb. 27. But the project ran into a wall of opposition Monday, when Minturn resident Frank Lorenti turned in enough signatures to bring the council's action to a referendum. The vote is scheduled for May 20.
There may be little in common between Ginn's 5,300-acre project - which would replace a Superfund site with a posh resort - and Danny Mulcahy's Steamboat 700, the planned 700-acre, primarily residential development west of Steamboat Springs that is presumably intended for the full-time, working-class resident. But, like Ginn, Mulcahy needs annexation if he wants municipal services and urban densities. And, like Lorenti, some Steamboat residents think the project represents too significant a choice for seven City Council members to make.
Money matters
Minturn's crumbling sidewalks, vacant storefronts and leaking water system shed light on the opportunity Ginn's development presents for Minturn, says interim Town Manager Gary Suiter.
"Economically, they've been suffering," Suiter said. "This provides them an opportunity to secure their future for the long-term."
Suiter has made a career out of leading towns such as Minturn through difficult times on an interim basis through his firm, Suiter & Associates. Suiter was the town's lead negotiator of an annexation agreement that, in addition to addressing the problems above, will also bring the town streets, streetscapes, $8.5 million for a recreation center, trails, a scholarship fund for local students, $22 million for land acquisition, parking lots, employee housing, local use of the private resort, wildlife mitigation and the final cleanup of an Environmental Protection Agency Superfund site created by acid mine leakage from an abandoned mine on Ginn's property. Minturn will see its budget jump from about $1.5 million to $6 million to $9 million in the first year, Suiter said. All in all, Ginn will provide $180 million for town improvements.
"It's significant," Suiter said.
Lorenti, who owns a small automotive business but set aside oil changes for the annexation petition, sees things differently. He has lived in the town for 15 years and believes Minturn is selling its soul rather than securing its future.
"Basically, what Ginn's saying is look at my money and don't worry about what I'm doing," said Lorenti, who led the drive to put the annexation to a vote. "He's buying us out. They're really misleading the public, and I really don't appreciate that. If you're going to buy someone off, at least be honest that's what you're doing."
While he has a number of issues with Ginn's proposed development, Lorenti said his wish to put it to a vote is more about principle than his opposition to the project.
"You get a feel for the whole community," Lorenti said. "It's going to affect every single person who lives here. : My whole way of life is going to change if it goes through."
Bargaining chips
Mayor Gordon "Hawkeye" Flaherty has lived through a number of the most significant events in Minturn history. Some of those events, such as the closing of the Gilman Mine now owned by Ginn and the abandonment of the Denver & Rio Grande Railroad lines through Minturn, have been a blow to the town's economy. A bowling alley, grocery store and hardware store all have disappeared, but the development and operation of the neighboring Vail and Beaver Creek ski resorts have kept the town afloat.
"I don't know what would have happened to Minturn if we didn't have the ski areas," Flaherty said.
Flaherty views the town's annexation of Battle Mountain as a continuation of the resort industry's supporting of Minturn, one that will allow Minturn to do much more than simply stay afloat.
"We didn't need the annexation to survive," Flaherty said. "We've been getting along fine. But I believe, and I believe the rest of the council believes, it's going to be economically beneficial for the town. We generate enough income to provide the basic needs for the citizens and no added amenities. We're running at the bare minimum."
Steamboat Springs city officials will look to exact a number of public benefits from Mulcahy and Steamboat 700. The most significant of those - and the biggest sticking point of negotiations so far - is affordable housing.
Flaherty said Steamboat officials should not be afraid to be tough on the developer to get what they need out of the project.
"It's a fairly complicated process," Flaherty said. "I would advise them to have good consultants and have the developer pay for those consultants. : I think, in the end, don't be afraid to say, 'No.' If it is not going to be an asset to the community or the citizens, don't be afraid to say, 'No.' If it's going to be a burden to you, why would you want to do it?"
Lorenti believes Minturn did not have the type of upper hand Flaherty describes in its negotiations with Ginn. The Battle Mountain property straddles both sides of U.S. Highway 24 between Minturn and Red Cliff in unincorporated Eagle County. Lorenti said the fear that Ginn would take his application to either Red Cliff or the county had town officials fearing they had no choice but to annex.
Both Suiter and Flaherty denied that claim and said the town felt it had a choice. But they did admit the fear of "jurisdictional shopping" was an important consideration and pressure.
"That was a factor," Suiter said. "The council members expressed that. If we don't take this opportunity now, we could get stuck with all the impacts and no way to address them. The council members expressed that and they continue to do so."
Ginn spokesman Cliff Thomson denied that the company was simultaneously in negotiations with Red Cliff or the county, but did say it would evaluate several options if Lorenti's referendum succeeds.
The vote
Flaherty said he hopes the May 20 referendum will not reverse the Town Council's unanimous approval of the annexation.
"I think I'd be disappointed if the referendum (succeeds)," Flaherty said. "I do because we go back to the original conversation. It would really put the fate of the town in someone else's hands. We'd be like Red Cliff, hoping somebody else watches out for us. I don't think it would be in the town's best interest."
At the Turntable restaurant on Railroad Avenue, five days before Lorenti turned in his referendum petition, Minturn plumber Allen Moore expressed a number of concerns with the Battle Mountain annexation and hoped it would go to a vote.
"Not much has changed in Minturn for a long, long time," Moore said. "It's just going to commercialize everything, raise the prices and drive people out. It's going to take the nostalgia out of the mountains. : This is the only place workers can live at affordable prices.
"Hopefully we'll have something to say about it," he continued. "If it was left up to the residents here and the voters, I don't think it would pass - and we should have that right."
Thompson had little to say about the annexation going to a vote. He declined to provide his personal opinion, instead extolling the company line.
"That's a matter between the town and the citizens of Minturn," Thompson said. "We're just the applicant at this point. We're not driving the bus."
Mulcahy has not been so tight-lipped about the possibility of Steamboat 700 going to a vote. Because of the time and price it would add to his project, he strongly opposes it.
"At the end of the day, I think I would win a referendum," Mulcahy said. "I think I would win hands down, actually, but I don't think it's in anyone's best interests."
In addition to costing himself money, Mulcahy said the added time and cost would mean higher prices for Steamboat 700's homes, as well. Mulcahy has said he hopes to be annexed by the end of the year.
That type of talk throws up red flags for Lorenti, who doesn't believe the consideration of Battle Mountain has been given enough time. Lanning said Ginn first came to his office in 2004. Ginn submitted his petition for annexation in 2005.
"That's what the developer's fighting for," Lorenti said. "He wants to get annexed in because that's his biggest hurdle. I say there's a reason for it."
Suiter also said Mulcahy's timeframe is too fast.
That "sounds pretty aggressive in my professional opinion," Suiter said. "It's pretty standard behavior for developers. For developers, time is money. They'll come in very aggressive. It's up to the governments to slow things down."
Mulcahy disagrees. Noting the city's West of Steamboat Springs Area Plan, he believes things can move faster in Steamboat because the community already has identified his property as the place it wants to grow.
"The difference is this town has planned this for 15 years," Mulcahy said. "I don't want to rush it, I don't want to do something that's wrong, but I still want to do it this year. A referendum will add at least a year to the process."
City Council President Loui Antonucci also noted the West of Steamboat Springs Area Plan as a reason why he wouldn't support council putting Steamboat 700 to a vote without a citizen petition.
"In some respects, I feel we've already done that," Antonucci said. "Collectively, the community thought west Steamboat was the place to grow. : I wouldn't want to go through that unless someone went out and got the signatures."
Councilman Steve Ivancie, however, said he has heard enough concern that he might be interested in council requiring or suggesting a vote.
"It's something that I could certainly get behind," Ivancie said. "But I'm just one of seven."