By the numbers
Population in Moffat County (without oil shale development)
2005 13,426
2010 17,705
2035 26,356
Estimated 30-year growth: 96 percent
Estimated annualized growth:
2.3 percent
Energy jobs in Moffat County (without oil shale)
2005 970
2010 1,530
• All growth is expected to happen in the natural gas industry. The study states, "Total energy jobs will peak at about 1,740 in 2025 before declining to about 1,050 by 2035 due to contraction in the natural gas and coal mining sectors."
• Coal mining jobs are estimated to decline from about 450 in 2005 to about 390 in 2035.
Document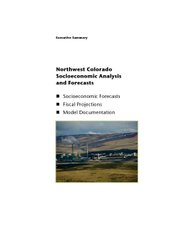 Document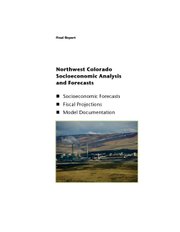 About a year ago, Jesse Smith found himself sitting in on Bureau of Land Management officials talking to Western Colorado government officials about oil shale development.
Smith, who was then the assistant county manager for Garfield County, said he couldn't get past the fact that the BLM essentially was asking local and state government to "make decisions in a vacuum."
"I just got concerned as I sat there and listened to what they were doing," Smith said, "There were no socioeconomic studies being done."
If energy companies ever are able to develop oil shale - which is sometimes called immature coal - into an economically viable resource, the additional strain on Western Slope infrastructure could be great, Smith said.
Around that time period, Smith was eating lunch with other officials - including Jeff Comstock, Moffat County Natural Resources Department director - and they all agreed something should be done to quantify Western Slope growth issues, including transportation and housing.
Colorado Department of Local Affairs officials agreed, Smith said, and the agency approved $300,000 for a socioeconomic study in June 2007, which Associated Governments of Northwest Colorado decided to organize.
Associated Governments - a group of elected and employed government representatives for Moffat, Routt, Rio Blanco, Garfield and Mesa counties - presented its final study from BBC Research and Consulting to the state Legislature, media and energy industry officials Friday.
Findings
Although the study found the Western Slope's commercial future looks bright, it did not reach a positive conclusion on how the region could pay for increasing development.
Among the study's findings was that if federal mineral lease and severance tax dollars come back to the Western Slope and are not split with needs around the state, Western Slope counties still would require another $300 million to address the expected arrival of industry and workforce.
However, the Legislature is looking at both federal mineral lease and severance tax revenue to address statewide education, transportation and health care.
Perhaps more disturbing, Smith said, is that $300 million deficit is at the end of another 27 years. Infrastructure improvements that will meet the demands of coming growth likely will have to happen before growth arrives.
"When those people get here, you're already going to need the housing and the roads and other things that will support them," Smith said. "It's about an upfront $2 billion."
Counties likely will not be able to do that themselves, the study states, as traditional tax revenues such as property and sales tax have a three to eight year lag between when they come in and when new residents arrive.
Though DOLA representatives told Smith the agency would like to help as much as it can, DOLA cannot provide everything, he said. Getting loans could prove difficult for counties, as well, since the energy industry historically has been boom and bust.
However, the study states that recent long-term and steady natural gas exploration and employment growth shows that current energy industry growth is different - and more stable - than the original oil shale boom of the 1970s.
Not everyone may be convinced of the current boom's strength, however, Smith said.
"Should counties put in a tremendous amount of infrastructure for what can be a very volatile industry?" he said. "Counties probably won't be able to find financial institutions that will finance a potentially volatile industry."
There will have to be multiple sources of relief, Smith said, including voter-approved bonds.
"That's going to be part of the problem," he said, "convincing everybody what's going to happen and then exploring options."
Put to use
Smith and Aron Diaz, Associated Governments executive director, both said Friday's audience reacted to the presentation with thanks.
"It's the most comprehensive study on this subject for 30 years, since the original oil shale studies were done," Diaz said. "What it's really given us is a foundation to work off of so we all have the same statistics and understanding of the issues.
"It quantifies the issues so we're not working off anecdotal information anymore."
However, Smith said there was some regret among the study's presenters that the Legislature arrived about an hour late because Friday's session ran long.
Despite that, Diaz said, state officials did make it, such as Don Mares, Department of Labor director and Susan Kirkpatrick, DOLA executive director, as well as representatives for U.S. Sen. Wayne Allard and Gov. Bill Ritter.
It is Diaz's hope the Legislature will use the information to correctly address the needs of the Western Slope, he said.
"Since Northwest Colorado is a large player in the state economy," Diaz said, "we think there needs to be some action taken to ensure Northwest Colorado can continue to be that large piece.
"Our piece in the economy needs to be recognized and we need to be compensated for it."