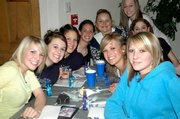 Craig — If you had ventured into the Moffat County High School gymnasium at any point during the course of the girls basketball season, you would find girls giving their all out on the floor.
Driving layups, fancy assists, bullish rebounds and long bombs from three-point land.
On Wednesday evening, that same team was present at the girls basketball awards ceremony, but they didn't come close to resembling the unit found on the hardwood floor.
Laughter echoed throughout the Center of Craig, as videos of girls no older than 6 struggled to keep hold of a basketball, let alone shoot one.
Next were clips of these same hoopsters in middle school, running the wrong way down the court and tripping over their own feet.
The highlights were laughable, but when the clips changed to recent footage, what you saw was dominance.
Seniors Markie Workman and Desirae Pearcey hauling in boards and hitting buckets down low.
Seniors Angie Charchalis and Jorgiea Raftopoulos racing down the floor, stealing the ball and hitting 3's.
Senior Amy Dilldine slashing to the hole and playing stifling defense.
MCHS coach Craig Mortensen handed out lettermen awards to many different players - some received their first, others their fourth - and Charchalis and Workman were honored when Mortensen announced the duo was named to the 4A all-state team for the second consecutive season.
But it wasn't about the hardware that the girls were awarded, or even how proud Mortensen was of them, it was the joking and fun between teammates.
Some may never play basketball together again, so this was their opportunity to shine.
Together.
Like they have all season, piling up win after win during another successful run through the playoffs.
Like they did as youths, learning the sport that would take them through many ups and downs.
The Bulldogs didn't capture a state title this season, but what they did capture was each other's friendship.
"I've never had a group of girls quite like this," Mortensen said. "I'm really going to miss them."
The seniors leave behind a lasting legacy in basketball at Moffat County, as many records fell this year at the hands of the class of 2008.
Mortensen said it will be hard to replace those who are leaving, but he doesn't have to look far for the next wave of Bulldogs ballers.
They were in the room too.
The MCHS junior varsity squad went 17-2, as did the freshman team.
The seniors will be missed, but the legacy of MCHS basketball will remain.