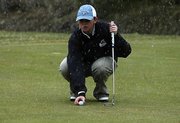 Midway through its season, the Moffat County High School girls golf team has found themselves indoors a lot.
The only time they've spent outdoors is during tournament time, on the road and away from Craig's winter weather.
On Monday in Rifle, the Bulldogs found they couldn't escape what they left behind.
Snow dominated the landscape at Rifle Creek Golf Course, shortening the Rifle Invitational to seven holes.
MCHS placed fourth out of the 10 teams that competed in the cold and snowy conditions.
"That's all right for now," MCHS coach Ann Marie Roberts said. "We still have yet to be outside (at home), and this is what we get when we travel. It's crazy out here."
Senior Meghan Innes found she had carded a 35 when the horn blew sounding the cancellation of the tournament's final 11 holes.
The score was good enough to force a one-hole playoff with Kelly Meldun of Gunnison High School for the individual championship.
The duo teed off on the ninth hole - a 139-yard par 3 - in a flurry of snow with spectators huddled under the Rifle Creek clubhouse porch.
Innes hit her tee shot fat and wound up bogeying the hole, while Meldun parred the hole, capturing first place.
"You think that the weather won't bother you and that your swing should just be the same," Innes said. "But, this weather still bothers you. Your hands get cold, and it makes it hard to grip the club. Still, I should be used to it."
Sophomore Heather Nicholson carried a 40 into the clubhouse with her when all was said and done, but she said she could have done better - especially with her short game.
"I hit the ball good off the tee and the fairway," Nicholson said, "and I hit some putts. It was my chipping that killed me. It's hard to concentrate when your face and hands are freezing.
"It was miserable out there."
Freshman Callie Papoulas finished with a 48 in her return from a back injury suffered last week.
"This is my first tournament back and this is what I get," Papoulas said pointing to the ever-falling snow. "This just gets me mad. The conditions are really bad, but I guess we just have to deal with it."
MCHS has a two-week break before its next scheduled tournament, April 23 in Glenwood Springs.
"We are going to try to add one more tournament before then," Roberts said. "If our home course isn't open by then, we'll have to travel somewhere. We need to get outside and play some real golf."