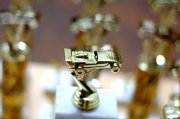 2008 Pack No. 166 Pinewood Derby winners:
Tiger Cub Division
1st - Jesse Earle
2nd - Trenton Hillewaert
3rd - Wyatt Heim
Wolf Cub Division
1st - Kelton Villard
2nd - Grant Wade
3rd - Frankie Masterson
Webelos Division
1st - Riley O'Leary
2nd - Jordan Kainz
Open Division - Youth
1st - Charlie Earle
2nd - Stevie Masterson
3rd - Cheyenne Harmon
Open Divsion - Adult
1st - Shelly Pinnt
2nd - Foster Beckett
3rd - Dave Dempster
Overall Pack 166 Winner
1st - Kelton Villard
2nd - Jesse Earle
3rd - Riley O'Leary
Most Creative Design - judged award
Bradley Moss
People's Choice - voted award
Bradley Moss
Craig — Speed racers ranging from youths to adults kept a tradition steeped in 55 years of history alive and well Sunday in Craig during the second annual Cub Scout Pack No. 166 Pinewood Derby at the Centennial Mall.
Nearly 30 cars - composed of a wooden block, four wheels and four nails - were entered into the races. Three adults joined the young contestants, ages six to 10 years old.
The cars, Cub Scout leader and Pinewood Derby organizer Randy Looper said, aren't much to begin with. But, it's surprising what the finished product looks like with a little imagination and work.
"You start with a block of wood : and it becomes a car," Looper said. "It's the kids drawing it, carving it and painting it. They start with nothing and end with something really cool."
The Pinewood Derby originated in 1953 in Manhattan Beach, Calif., and after popularity spread, the Cub Scouts adopted the event for all packs within a year. It was billed as a "wholesome, constructive activity that would foster a closer father-son relationship and promote craftsmanship and good sportsmanship through competition."
Looper said parental involvement with a child is an added benefit of the Pinewood Derby.
"I see that happening, but I wouldn't (limit) it to fathers and sons," he said. "It's a parent-son thing. Today I had five fathers (involved) and the rest were all mothers.
"I think it's a great benefit because it does get parents involved. And it's fun. It's just a kick to build those things."
Sunday's event marked the second consecutive year of the Pinewood Derby for Pack No. 166.
Looper said the newly found tradition will remain a staple for the Cub Scouts in Craig.
"It's something the Cub Scouts have been doing for a long time" nationally, he said. "The pack now has its own track, and it's something we're going to do year after year."