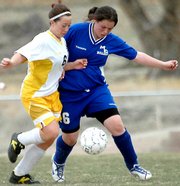 Having been outscored 19-0 in its previous three games to open the season, the Moffat County High School girls soccer team was looking for a change.
"We are changing some things up on offense," MCHS coach Alegra Yager said before Saturday's matchup in Delta with the Panthers. "We need more speed up front, so we are going to try a few new things to help us achieve that."
The Bulldogs looked like a much different team than had taken the field during their previous three contests, controlling the ball and creating offensive looks on the opposition's side of the field.
But, despite the new-look offense, the end-result was the same:
Delta won, 3-0.
"We looked a lot better out there on the field today," Yager said. "We started to find some spaces. It was a tremendous improvement for the girls. I'm really proud of how they responded.
"They are starting to pick it up."
The loss was the fourth consecutive shutout to start the season for the Bulldogs (0-4 overall, 0-3 Western Slope League).
The Panthers (3-4-1 overall, 3-3-1 WSL) were outplayed on both sides of the ball in the first half but regrouped to earn their first shutout victory of the season.
"We have been working all season on our defense to try and make something like this shutout happen," Panthers coach Julie Mottern said. "This team has pride in themselves on defense. They know that defense is the key all the time, not just some of the time."
Delta opened the scoring when a deflected shot by junior Breann Sharr found the right side of the Moffat County net.
The Panthers scored again less than two minutes later when senior Justine Holm deposited a penalty-kick past Bulldogs goalie Gricelda Quezada.
Quezada obtained a sense of redemption early in the second half, stopping a Holm penalty kick point blank - her second PK save this season - to keep the Bulldogs within two.
The offensive pressure in the first half evaporated in the second, as the Panthers played keep-away attempting to hold their lead.
A perfectly bent corner-kick by Sharr found the net late in the game, accounting for the final margin of victory.
"We aren't getting discouraged at all," Yager said of the four-game scoreless streak. "If the changes we made today stick, it will be a tremendous help to our program. We saw a big difference today, I'm excited for what the rest of the season will bring."