Photo Gallery
Water wardens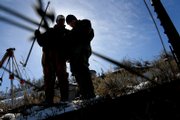 Craig — Water is a complicated subject.
It affects everything from wildlife to farming to irrigation to what goes into coffee in the morning.
Keeping it all clean is where the Little Snake River Conservation District steps in, covering about 250 square miles in southern Wyoming, making sure water is ready to be used in an array of applications.
Dawn Arnell and Tim Morrison, both with the Snake River district, loaded up their equipment on their backs Friday and headed north of Baggs, Wyo., just off Highway 789.
They were decked from head to toe in slickers and heavy clothing, getting ready to undergo a series of tests to make sure the water is clean.
Their job however, is not so clean.
As the sun started to rise and warm up the clay on the ground, things started to get dirty.
Quickly.
But that is part of the whole picture and didn't stop the two from their job.
"It's the scientist in me," Morrison said, "wanting to know what's going on with the water."
As they stepped into the knee-deep, sediment-filled water, they joked around but stayed steadfast on their goal.
"I think when people turn on their water," Arnell said, "they have no idea what we have to do to make it OK to use."