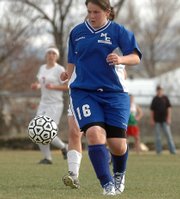 Montrose — First-year Moffat County High School girls soccer coach Alegra Yager said she wants the team to learn how to win.
To win in soccer, teams must score goals.
Unfortunately, for the Bulldogs, they were shut out Friday for the third consecutive game to start the season, losing, 8-0, to the host Indians in Montrose.
"It's hard to get back going right out of the (spring) break," Yager said. "We are still trying to get the feel and the flow, the back-to-the-basics stuff. We can't make mistakes."
It wasn't so much mistakes that plagued the Bulldogs - it was the lack of offensive flow. Montrose controlled the game's tempo from the onset of play, scoring three goals in the early minutes of the first half.
It was the first game back from the break for the Indians also, and Montrose coach Mike Frazer was more than impressed with the outcome.
"I was impressed with the way we played tonight," Frazer said. "We tried a few different things on both sides of the ball. I wanted to keep them thinking, so as to not get lackadaisical out there. The girls responded well."
The Indians scored two more goals in the first half, taking a 5-0 lead into the break.
Yager gave the Bulldogs a pep talk during the intermission, but the motivational tactic failed.
"We contained much better in the second half," Yager said. "They pulled it together, they just need to have that attacking mentality. It's hard to see that in a gym."
The loss dropped MCHS to 0-3 overall, 0-2 Western Slope League.
The Indians climbed to 6-1 overall, 1-1 in the Southwestern League.
The Bulldogs make a short trip north to Delta today to compete against the host Panthers (2-4-1 overall, 2-3-1 WSL).
John Vandelinder can be reached at 875-1793, or jvandelinder@craigdailypress.com