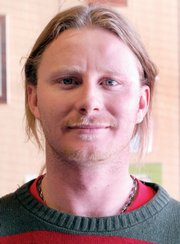 Billy Collier
Age: 28
Occupation: Warehouseman at Boy-Ko Supply Co.
What should your business card say you do? Warehouseman and sometimes delivery
Place of birth: Craig
Describe your morning routine:
Get up, take an Emergen-C and head to work
How would your friends describe you? Colorful and eccentric
Have you ever had a book change your life? What is it and why? "Spiritual Man," by Watchman Nee because of how it talks about spirituality
When you were a kid, what did you want to be when you grew up?
I never knew
If you could invite any four people to dinner, who would they be and what would you serve? Jesus, Jerry Garcia, Watchman Nee and John Popper, and I would serve steaks
What are three things you can't live without? Music, love and God
What's the worst reason you've received/given for breaking up with someone? The love wasn't enough
If you had to give up one of your five senses, which would it be? Taste
If you could go anywhere in the world, where would you go and why? Australia, the diversity of the animals and the climate
What band or performer would you stand in line to get tickets for? Probably the Grateful Dead or The String Cheese Incident
What music, book or movie are you ashamed to admit you love? Garth Brooks
Favorite childhood memory? Swimming in the ocean
What would you do if you won $10 million? Buy land and move all my friends onto it
- Interview by Hans Hallgren