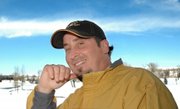 Craig — Brett Etzler takes a break from his Reuben sandwich served up at the Tin Cup Grill at the Yampa Valley Golf Course.
Etzler has had many long lunches lately.
You can't golf in the snow - at least, you're not supposed to.
A customer approaches Etzler, pats him on the shoulder and says, "I wanted to play today, Brett. What happened?"
Etzler smiles as he looks out the window at the golf course.
A blanket of white covers the fairways, tee boxes and greens as far as the eye can see, but Yampa Valley's new head golf pro remains optimistic.
"It will melt in a hurry," he said. "We'll be out there soon enough. Don't you worry."
Such has been life for Etzler, as winter refuses to go without a fight.
As the new head man on Craig's links, he has eager golfers frequently asking him when the course will open.
The course opened March 20 last year, and Etzler said his goal is to have the course available for play by April 10 - just in time for the men's club opener.
"We'd like to be playing that day," Etzler said. "We'll definitely be open by April 26 for the Dirt Hog Scramble."
The course hasn't been open since the fall, but that doesn't mean Etzler has been short on things to do.
A new course superintendent and assistant were brought in for the 2008 season, followed by new inventory and a new computer system.
To say Etzler is familiar with golf would be an understatement - he started playing when he was 6 - but becoming the head pro in Craig did offer up a few unfamiliar tasks.
"I have to do accounting and payroll now," he said. "There's many facets to the job, and a couple of them are new to me. It's definitely new, but I've got a business degree that should come in handy. And, I've had all winter to practice and get ready for it. I'm ready to go."
Etzler replaces Chuck Cobb, Craig golf pro for 33 years - a feat Etzler said won't be easy.
"I give Chuck a lot of credit for the operation he ran for so many years," Etzler said. "It's a great facility, and I don't think a lot of changes need to be made. But, there will be a few subtle changes to enhance the operation."
One of the first things Etzler will do is appoint a starter to relieve some of the congestion found in the pro shop each day.
Etzler laughed when asked if he would offer the position to Cobb - who, though retired, is seen routinely peeking into the pro shop.
"No, he would laugh if he heard that," Etzler said. "Chuck has been a staple around here for so many years, it will be a challenge to live up to his standards. : It's an excellent opportunity to have, and I'm really excited about it. It will be a challenge, but I'm looking forward to it. No doubt about it."
And when it comes to a challenge in golf, Etzler goes after it.
Brett's father taught him the game. It was a sport that would eventually end up paying Brett's bills.
Still, the road in between wasn't easy.
A four-time all-state selection as a high school golfer, Etzler took his skills to the University of Indiana, where he found that his game didn't match his will.
He transferred to Ferris State University in Michigan, where he enrolled in golf course management - the only such course available in the country at the time.
He graduated with a degree in marketing business with an emphasis in golf course management.
While in college, Etzler met his wife-to-be, Marie, and upon his graduation, the duo moved to Arizona where he landed his first job as an intern at Troon Golf Course in Scottsdale. He held the position for a year before relocating to Georgia.
There, Etzler got a taste for what it takes to run a course.
He was the head golf pro at the National Course, part of a seven-course layout named Reynolds Plantation, in Greensboro.
Life was good. He was finally the man in charge, he and Marie had two boys - Connor and Tanner - and he encountered some of his biggest highlights on the links.
Etzler had the opportunity to play Augusta National - home of the annual PGA Masters tournament - three times.
"It's impossible to get on that course," he said. "I was fortunate to be invited three times. That was quite the experience. You show up, and you have a caddy waiting for you on the range. I went to lunch, and my caddy was waiting for me with my clubs."
His caddy was a veteran club-carrier named Bussy.
"He smoked a cigarette the whole way around, and he'd hold it up to tell me the wind direction," Etzler said. "Old Bussy, he didn't talk much, but he sure could smoke."
Etzler said his best round at Augusta was a 76, far from his best-ever round of 65, shot at what he said was the most convenient time.
"It was during the club pro championships in Georgia," he said. "I finished in the top 10 and qualified for the PGA Championship."
The PGA Championship is one of the four major championships played on the professional tour.
"I actually qualified for that," he said. "I didn't come close to making it, but it was a great learning experience. To be able to play for the PGA was a little nerve-racking."
Etzler found his way to Craig because of his wife's new job, and although the two no longer are together, he isn't planning to leave anytime soon.
Something about Craig has grown on him.
"It was definitely a change at first," he said. "But I really enjoy the climate here. The thing about golf here is you get a little bit of down time in the winter, to get away from it for a few months. That was probably the biggest difference. I actually had to go out and get a job during the winter."
So, what does an assistant golf pro do during the winter months?
"I drove a laundry truck back and forth from Hayden to Steamboat," he laughed and said. "Kind of a mindless job, but it wasn't bad."
He said the biggest change for him was coming from a private club to a public course.
"This is much more my style," he said. "It's more of a laid-back, friendly clientele. You almost feel like one of them versus at the private club, where it was a little pretentious at times."
He's made the move to Craig, but Etzler said his dream of playing on the PGA Tour is still alive.
"Being a golf professional, all of us aspire to play at that level," he said. "I still have a goal to play on the Senior Tour one day. But, I have to make sure I get out ahead of Tiger Woods."
John Vandelinder can be reached at 875-1793, or jvandelinder@craigdailypress.com