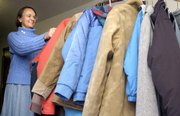 How to help
Donation locations:
• Loyd's Cleaners at 552 Breeze St. in Craig.
• Hayden Congregational Church at 202 Jefferson Ave. in Hayden.
• Calvary Baptist Church at 1050 Yampa Ave. in Craig.
• Love INC of the Yampa Valley at 659 School St. in Craig.
More collection sites are to be arranged
Craig — Off an on through the years, various organizations have conducted coat drives in the Yampa Valley to help fill the need of warm clothing in cold conditions.
Love INC of the Yampa Valley is the most recent organization attempting to fill that need, a role the group picked up a couple of years ago, said Pat Jones, the Love INC director.
"Most people understand that a need for coats is a real severe need in Northwest Colorado with its severe winters," Jones said.
Starting Monday, Love INC is accepting donations of winter coats and other outdoor apparel for the annual Community Coat Drive. The donation portion of the drive continues until Oct. 13.
Adult size coats XL and XXL are needed, as are children's coats in all sizes.
"We always run out of children stuff," Jones said. "By the time you've distributed two spots, you're usually left with hardly anything for the kids."
Other items needed include mittens, gloves, hats, ski pants, among other winter apparel, for all sizes.
"I believe those are a big need. : But we don't push that as much because first thing is first - if you at least have a coat, you can at least stick your hands in your pocket," Jones said.
Love INC requests no sweaters or other clothing materials be donated for the coat drive.
Coats will be cleaned and distributed to anyone in the Yampa Valley who needs a coat, beginning Oct. 15 at Hayden Congregational Church. From there, Love INC will take coats to various communities across the Yampa Valley, advertising the dates and locations prior to coming to town.
"The one thing that we do that wasn't done before is making (the coat drive) so mobile," Jones said. "We load up the church vans and our private vehicles, and we take it all over the valley, so people don't have to try to find the coats. We bring it to them."
During the past three years, Jones estimated that Love INC has given away at least 1,400 coats.
"Communities across the valley have been very good about donating," she said.
Jones said Love INC has no set goal on how many coats it would like to collect, only that Love INC will give away what it gets.
"I would hate to see less" coats donated, she added.
Love INC, which stands for Love In the Name of Christ, is a collaborative effort among 14 full partner churches and several network churches in the Yampa Valley whose focus is to meet unmet needs in community, Jones said.
"My point of view is that God tells us to help our neighbors, and if my neighbor is cold, then I need to do something to help solve that problem," Jones said. "As neighbors, we need to help each other."
For more information, call Love INC at 826-4400 between the hours of 2 to 5 p.m. Monday through Friday.