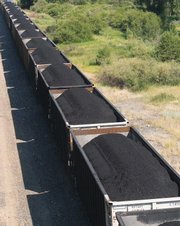 If you go
What: Xcel Energy's hearing with the Routt County Board of Commissioners regarding a special use permit for a coal supply rail spur to Hayden Station.
When: 6 p.m. Sept. 24
Where: Commissioners hearing room, Routt County Courthouse Annex, 136 Sixth St.
On the 'Net
View Xcel Energy's rail application at www.edaw.net/hayden. Enter "guest" for the username and password.
Steamboat Springs — It was anything but an enthusiastic endorsement, but the Routt County Planning Commission recommended for approval Xcel Energy's application for a rail spur near Hayden.
The rail line proposal, which would extend from the Union Pacific mainline to the Hayden Station power plant, will go before the Routt County Board of Commissioners at 6 p.m. Sept. 24.
It was standing room only in the commissioners hearing room Thursday night as the Planning Commission considered Xcel's application. The rail spur has been in the works since 2003, and comments from Xcel officials and planning commissioners suggested it has been a tiresome ordeal.
"This has been a rather protracted process," said Mary Brown, an Xcel lobbyist.
Brown said the rail line option the company was presenting - one that would extend from the east end of the Nature Conservancy-owned Carpenter Ranch southeast to the coal-fired Hayden Station, with an overpass across U.S. Highway 40 and an at-grade crossing of Routt County Road 27 - was the only one it had left after the exhaustive four-year process.
The spur would follow an existing 75-foot right-of-way through the far east end of the Carpenter Ranch. Brown said Xcel was forced to use its existing right-of-way because all other options would require crossing private property with unwilling landowners.
During public and commissioners comments, many concerns were raised, ranging from safety concerns involving wildlife to the opinion that the rail spur is just plain ugly.
In the end, the planning commissioners voted 6-1 to move the application forward with a recommendation for approval, although many commissioners said they voted that way grudgingly. Planning Commissioner Fred Nichols was the lone "no" vote. He said he could not support the project without a separated-grade crossing of C.R. 27.
Concerns about the overpass' aesthetics were somewhat mitigated by a county staff recommended condition included over Xcel's objections. The condition states, "The spur shall be redesigned to include a trestle bridge that appears rural and historic in style and that spans beyond the U.S. 40 right-of-way far enough to accommodate the passage of wildlife and surface water."
Hayden Town Manager Russ Martin attended the meeting, but said the town has taken no formal position on the rail spur. Martin said the Hayden Town Board would consider taking a stance prior to the application's presentation to the Routt County Board of Commissioners.