Memorial service
A memorial service for Tim Ingalls is at 2 p.m. Saturday at Hayden Congregational Church, 202 E. Jefferson Ave.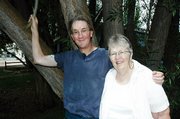 Steamboat Springs — A difficult year for the Ingalls family got a little tougher last week.
Hayden resident Tim Ingalls, who spent the past year and a half overcoming open-heart surgery, serious infection and constant battles with diabetes, passed away Oct. 14.
Ingalls' health issues and mounting medical bills were the impetus for several community fundraisers last year. Friends and neighbors donated thousands of dollars to help cover those expenses, raising money through bake sales, rummage sales and a barbecue.
Betty Barnes, a friend who helped organize last year's fundraisers with the mission team from Hayden Congregational Church, remembered his "quiet smile" and friendly demeanor.
Ingalls had to have his teeth pulled last summer to stop the infection that spread to his heart.
"He was so proud of his new dentures. It was so wonderful to see him smiling again and getting his life back to normal," Barnes said.
Ingalls, a self-employed plumber, was unable to afford health insurance. He was born with a heart murmur and suffered from Type I diabetes.
Ingalls' aunts are handling his affairs. His sister recently passed away after heart surgery of her own, and their mother, Pat, suffered a massive stroke when traveling for her daughter's memorial service. Pat Ingalls is still living at a nursing facility.
Friends and family again are asking the community to donate money for Tim. Donations can be made to the Tim Ingalls Memorial Fund at First National Bank of the Rockies in Hayden. The Hayden Congregational Church also is accepting donations on behalf of the memorial fund.
- To reach Melinda Dudley, call 871-4203
or e-mail mdudley@steamboatpilot.com