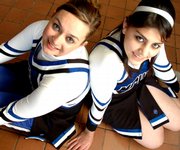 Craig — Erin Knez and Anngie Sparks have been waiting.
Knez is the coach of the Moffat County cheer team and Sparks is at the helm of the Bulldog dance team.
The two coaches have been patient for five months, waiting for the end of the season to arrive.
Each of her respective season's began the same time as football, volleyball and soccer.
But, there is a difference involved when negotiating the idea of the dance and cheer teams being similar to those mentioned above.
These two teams are still involved in competition. With all the other fall sports teams finished, the dance and cheer teams are heading to the state championships.
The teams will hop on a bus today and make the trip to Denver for a spot in Saturday's championship.
"We are very excited the time is finally here," Sparks said. "The girls have worked really hard. We've definitely come closer as a group throughout the year, and we are more than ready."
Dance team captain Amanda Wilson is a senior who will be making her fourth trip to the season ending meet. She believes the experience gained from previous trips should bode well for her crew.
"I've learned to not freak out before you go on stage," she said while laughing. "You have got to just stick with your routine, and believe your hard work will pay off."
The six members of the dance team have come a long way during the course of the year, a feat not gone unnoticed by Sparks.
"I could see the last couple of (football) games that the team had clicked," she said. "Watching these girls get all fired up before they perform makes the whole season worth it."
Senior Cassie Rogers captains the cheer team, a team that has shrunk from 16 members to the current eight who will be making the trip to Denver.
"It's been a rough year," she said. "But now I believe we are stronger from it. Eight has turned out to be the perfect number of girls for this team."
Rogers is making her third trip to the state championships, while Knez is in her first year as coach.
"It's nerve-racking," Knez said. "I've never been to state before. We have a lot of excitement that's been brewing for some time now. We are nervous, but we are ready."
The teams have been participating in two-a-day practices as of late in preparation for the season-ending final meet, which Knez said has got them "as ready as we are ever going to be."
Rogers reflected back on her final year as a high school cheerleader. She paused for a brief moment to smile. She then looked up over a wide grin and said,
"I'm really glad how everything has turned out despite how the year has gone. I'm hoping for a great finish to a fun season."