Photo Gallery
Moffat County Little Britches Rodeo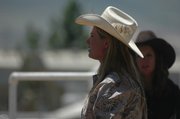 Moffat County little Britches Rodeo had 209 contestants enter and compete June 30 through July 3, 2007. These are a few pictures of the contestants.
Craig — Moffat County children are given an extraordinary opportunity to learn responsibility and sportsmanship at an early age by riding in the Little Britches Rodeos.
That statement is as true today as it was a generation ago, according to former riders.
For Sharon and Darryl Steele's children, growing up in Maybell meant an agriculture and livestock way of life and learning to ride as soon as they could climb on the back of a horse.
Pam, Bret and twin sisters Joyce and Janice all started riding in Little Britches Rodeos as soon as they were old enough to enter. They continued riding until their ages prevented them from competing.
"We went every weekend - Albuquerque, Las Vegas, from Phoenix to South Dakota," Bret said. "Now, here on the Western Slope, you can pretty much find a rodeo every weekend, and that's good, considering the price of gas."
Bret won "quite a few" saddles and went to nationals every year he was in Little Britches Rodeos, placing in saddle-bronc riding one year.
Bret is working this weekend's Little Britches Rodeo, which his family has done for as long as the event has existed.
He said his five daughters all have rodeo in their blood.
"Kayla (Mead) went through this. She Little Britches Rodeoed her whole life," Bret said. "She went to the national high school finals, and was the state pole-bending champion."
Daughter Gabby last year was runner-up to the world champion pole-bending rider, and son Shaye (Zimmerman) qualified for nationals this year.
That Bret's children are following in his stirrups is true not only with his family, but with all three of his sisters as well.
Bret's sister Pam (Taylor) may spend her days as a Certified Public Accountant in a downtown office, but when the rodeo is in town, she has a number of jobs at the fairgrounds in addition to getting sons Denton, 10, and Dusty, 8, ready to ride.
She said rodeo is a big part of her and her family's life.
"It's an every-night affair at our house," she said. "We go home and practice. Denton has won six saddles, and Dusty has one. They were 5 and 6 years old when they started."
The two boys are entered in all events at the weekend Little Britches Rodeo except the rough-stock riding.
Pam married Rusty Taylor, a Wyoming rider and team and calf-roper. The rodeo fits in perfectly with their lifestyle.
"You make friends for life at the Little Britches. It's a great organization," Pam said. "Their kids rodeo with my kids now. Once it's in your blood, it's in there."
Pam's sister, Joyce Barnes smiles when she thinks about how long ago it was then she was world champion in pole-bending and goat-tying rider in the Little Britches.
"I couldn't tell you how many saddles we had, but my dad had to build on another room because we had a houseful," she said.
Joyce stays busy during the rodeos helping to saddle up sons 11-year-old Casey, 2004 world all-around champion in the Little Wrangler division, and 8-year-old Cutter, winner of eight saddles to date. She does it all while holding onto 10-month-old Cactus.
Rodeo is "good for the kids," she said. "I saddle horses and tie ropes on for the roping events. I try and keep track of them because (the kids) sometimes forget where they're at."
Joyce said the rodeos are like gathering with extended family, with everybody helping out where needed.
Her twin-sister, Janice Edwards, agreed.
"You know a lot of people when you go to finals," Janice said. "Ones that you grew up with. They've all got kids in Little Britches."
Janice's son, 8-year-old Trent Vernon, was all-around world champion in the Little Wrangler division last year, and his 16-year-old brother, Troy Vernon, was number 10 in the world in bull riding.
Fourteen-year-old Taylor is in her last year riding in the junior division this year.
Their mom said she enjoyed goat tying and roping when she was a young rider at the national competitions. She also agreed that rodeo is good for the kids.
"My kids are so busy they don't have time to get in any trouble," she said.
She said even though her children all want to beat their cousins at the rodeo, they all are best buddies once the riding is finished.
Bret was helping set up the arenas before the weekend's rodeo, and had only good things to say about Little Britches.
"If you've never seen a Little Britches, well, those kids put on a show," he said. "It's real entertaining. This is the biggest in the country next to nationals."
The 200-plus contestants for the rodeo will be following in the tracks of long-standing family traditions when they ride into the Moffat County Fairgrounds this weekend.
Bret knows even though he has one child grown past Little Britches, he still will be working the rodeos for some time.
"Reina is 3 years old, and she'll do this too," he said about his youngest daughter. "She's a little wild."