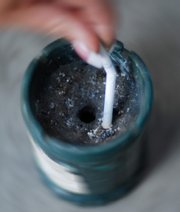 Craig — Local bars and restaurants will turn one year old as smoke-free businesses Sunday.
For some, like Ron Laselle, owner of The Golden Cavvy restaurant and lounge, this birthday is better left uncelebrated.
Laselle estimated a loss of $25,000 in revenue within six months of the July 1, 2006, implementation of the Colorado Clean Indoor Air Act.
"Being a nonsmoker myself, I enjoy the smoke-free environment better," Laselle said. "But, if I had a choice to help business, I would keep the restaurant nonsmoking and have the bar smoking."
For others, this birthday is worth commemorating.
Delbert Knez, owner of the O.P. Bar and Grill, said his business has made a successful adjustment.
The beer garden - an outside patio where smoking is permitted - has given Knez the best of both worlds.
"We had to accept the smoke-free law, and so did our customers because it will be around forever," Knez said. "Business has shown a steady increase."
Knez believes customers go home feeling more comfortable because they do not smell of smoke.
A study by the State Tobacco Education and Prevention Partnership found air pollution in bars and restaurants has improved by nearly 70 percent since the smoke-free law took effect.
For Teresa Wright, Tobacco Prevention and Education coordinator with the North-west Colorado Visiting Nurse Association, the increase in public health is the most important outcome of the Colorado Clean Indoor Act.
"Initially, businesses struggled," Wright said. "Now both customers and businesses owners appreciate their smoke-free atmosphere."
Because about 53,000 deaths per year in the United States are unwittingly caused by involuntary exposure, Wright said the smoking ban has saved lives.
"This act was a major reason for the decrease of secondhand smoke exposure in Colorado," Wright said. "I hope that people recognize how much their health has benefited from Colorado going smoke free."
Seventeen percent of Colorado adults smoke, Wright said, contributing to what has become the state's leading cause of preventable death.
Now that Colorado residents have become accustomed to the ban, Wright sees an increase in those trying to fight tobacco addiction.
"The smoking ban encourages smokers to quit," Wright said. "The community is really making an effort to become healthier since the smoking ban."
The VNA is helping those who want to quit.
Available at the VNA, 745 Russell St. in Craig, are quit kits and easy-to-follow guide to help smokers quit smoking.
"We can barely keep the quit kits in stock," Wright said.
Mari Katherine Raftopoulos can be reached at 824-7031n or mkraftopoulos@craigdailypress.com